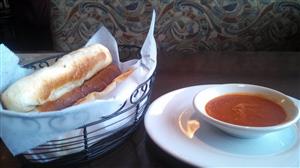 Last year I was talking with two married friends who moved from New York and are a part of an Italian family. I would say that New Yorkers who appreciate authentic food would be the best people to ask for thoughts on the Italian restaurants offered in the area. Murfreesboro is, after all, considered an oddity based on the abundance of dining options the city has for a population its size.
I ask about Marina's, one of my all-time favorite restaurants in the 'Boro. Every time I've eaten there, I have left with a fantastic experience. My friends share that Marina's did not win the "Favorite Italian Restaurant of 2012" award from the Ruthies. I asked "Who won?" and was told that Gondolier was the winner for both "Favorite Italian Restaurant" as well as "Favorite Dessert Place" of 2012. In the same breath that they shared that they didn't trust the judgment of the Ruthie Awards, they share that they were disgusted by Gondolier.
"The bread literally tastes like something from Little Caesars. Which isn't terrible, but that's not what you should have at an Italian place.
"The salad mix that they use is almost ripped from a Dole bag. We went there, and split the Chicken Marsala." Then, the husband chimes in. "You get two little pieces of meat thrown on some noodles. Never mind that the meat tastes like it's made from mushroom, the portions aren't there. They use mushrooms to cover the whole thing up."
I firmly believe that people should be very selective about what they put in their bodies. The body is a temple. But my temple worships the great Krusty the Clown, and I am more than willing to jump on a culinary grenade if it means growing as a writer.
So, in 2012, I go there. The bread is just like something you would have at Little Caesars. The salad is something out of a Dole bag. And the Chicken Marsala was two pieces of unappealing meat thrown onto noodles and smothered in mushrooms and sauce.
And here these people had won an award put to a county-wide vote? Get the hell out.
In addition to winning an award for best food, Gondolier also won an award for best desserts. So, having never tried a cannoli, I order one.
This is a dessert that many people have hyped up for me, calling upon the promise of this creamy-rich ambrosia as if it were some sort of celestial decree. So I order one. Much to my confusion, it tastes to me like an ice cream taco. Are they supposed to taste that way?
Overall, the experience was just as dissatisfying as it was discouraging. I kept asking myself "This is what won? Really?"
Now, let's fast-forward almost a year later. I have a few other food reviews under my belt, I feel a little more seasoned as a writer, and I've got this list of unfinished projects I've been meaning to accomplish. On the list is "Write Gondolier review." I realized I never got around to doing that. And surely, it wouldn't be fair to do a food review based on an experience a year after the fact. Gondolier could have cleaned up their act, offering one of the greatest dining experiences in the area. Who am I but some ape that someone put in front of a laptop and said "Bad gorillas. Amy. You write article." And sticking with the monkey metaphor, my end purpose for the good of humanity is to be a test subject for further understanding, be it with lipstick on my face or a helmet on my head as I'm launched into space at an unfathomable speed. I have a duty to experience something, positive or negative, and share my findings with the community.
So, with the understanding that it is largely my fault if I have a bad experience (knowing previously that Gondolier offered dining that can only be described as "off-putting"), I go back. Sitting in almost the same booth, I take a quick moment to survey my surroundings. It's obvious that the building used to be a Shoney's. The atmosphere, while at least not stereotypical, does not make you feel like you're at an actual Italian restaurant. I've dined at Olive Garden, Carrabba's, Porta Via and Buca di Beppo, as well as many non-corporate, locally-owned places. All of these establishments were capable of putting together an atmosphere that makes you feel like you're at an Italian restaurant. Gondolier, on the other hand, makes you feel like you're walking into a small-town diner that happens to be serving Italian food that day. Adding to the surroundings the choice in '80s-hits music and television programs like M*A*S*H or Friends, I would say that the overall theme of the restaurant gets lost in translation.
I'm not looking for tablecloths "from the old country," a patio where I can see the villa, or some hokey painting of grapes on the wall. But from the moment I walked in, I didn't really get the impression that they were trying to sell the culture of the food. It's more of a hodgepodge of what was available to the restaurant when it opened, dunked in a weird dinginess that makes you question why you're eating there in the first place.
The woman who served me was very nice, as all of the other servers appeared to be, if a little too rushed. Within moments, I had my bread again. I tried it. It tasted just like Little Caesars breadsticks. Which are fine, if you want five-dollar pizzas. But I was at "an Italian restaurant," so that's unacceptable.
My salad came out. Thank goodness I had ordered ranch dressing, because that's all I could taste. Never mind bland, the salad almost had no taste. The lettuce did not taste fresh, and my suspicions were confirmed of the Dole-bag quality when I found a piece or two that appeared to be brown from early stages of rot.
I didn't say anything. I kind of regret that now, but my logic was that by not saying anything, I didn't have to explain who I was, why I was there, or cause a scene. I held my tongue and pushed the salad away, waiting for the Chicken Marsala, which finally arrived. The meat on the dish didn't even taste like chicken, more like a very rough piece of steak, blurring the boundaries between "hoarse" and "horse." The noodles reminded me of lo mein you would get at a cheap buffet, and the mushrooms and sauce on the dish were below quality as well.
Having reaffirmed my previous assessment, I now wanted to leave. I ordered a cannoli, which I ate later. It still tasted like an ice cream taco.
Now, as I say, I don't really consider myself a serious food critic. I'm also not a doctor. So, saying that I had food poisoning might be questionable. But having had food poisoning, I can most certainly say that I had food poisoning-like symptoms immediately after dining at Murfreesboro Gondolier, which haunted me for almost two days.
So what can you, the reader, take away from all of this?
Well, the first item is to be your own critic. Make your assessments of what you like and don't like, rather than simply have someone else tell you where to spend your hard-earned money. Yes, critics offer insight, but you are your own authority. Be your own person.
Also, question everything. Just because a restaurant received awards does not mean it will offer you a good meal. It simply means they won an award. Based on having two identical experiences a year apart, I question how Gondolier received that award in the first place. I also question the effectiveness of the Ruthie Awards, as many people to whom I have spoken have had similarly distasteful experiences at Gondolier.
Since the community uses the Ruthie Awards as a compass to direct consumers to worthwhile businesses, I would argue that the folks who put it together have a moral obligation to re-assess their criteria.