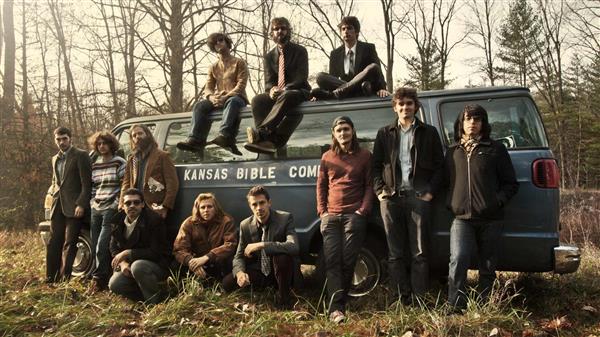 The Nashville-by-way-of Indiana band Kansas Bible Company is actually more like a traveling circus in size, eclecticism and theatrical appeal. And because it's difficult to ignore the glory of 12 instrumentalists onstage mashing together a potpourri of musical genres and blasting it into the faces of show-goers with a sort of sybaritic abandon, Kansas Bible Company, who moved from Goshen, Ind., two years ago, seem like they've been a Middle Tennessee fixture all along. This summer they've been on the road touring, scored a gig opening for Widespread Panic and are now thinking about their next record, which will follow up 2012's Hotel Chicamauga. Bassist Nathan Morrow tells the Pulse what it's like to be one-twelfth of Nashville's favorite soul-punk-rock-hip-hop . . . whatever.
Murfreesboro Pulse: Tell me about your recent tour and opening for Widespread Panic.
Nathan Morrow: Our manager helped set us up with opening for Widespread Panic. We've done three tour runs this summer and opening for Widespread in Pelham, Ala., was the first show on our second run.
MP: Your lineup seems to expand exponentially. Just to clarify, how many are in your band at present?
NM: We have 12 members.
Why name your house and latest album Hotel Chicamauga?
NM: The street we live on in East Nashville is called Chicamauga Avenue. The album title is also a reference to the Battle of Chickamauga, one of the bloodiest Civil War battles.
Do you all still live together?
NM: Nine of us live in the house we call Hotel Chicamauga. Two other members live in a house a couple blocks down. We're still in the process of getting our twelfth member, Rafael, down to Nashville. He currently lives in Goshen, Ind.
What is the dynamic like at the house, with so many people who make music together all in one place?
NM: There's a lot of jamming and offshoot projects. We have a room in the house bathed in red light and filled with red decor that we call the "Red Room." And every couple of weeks or so, or sometimes once a month, we will hold a Red Room where anyone who wants to perform can showcase something, whether it's a song, poem, artwork, etc. It's open to friends and strangers. There's no judging—just watching and listening.
What impact does that have on making music? Is there constant collaboration, or time set aside for music?
NM: There's definitely constant collaboration, at least in terms of ideas. We're always hanging out with each other, so it's kind of hard not to be constantly coming up with ideas together. We also set aside practice time where everyone meets and we work on stuff, whether new or old. Bringing a song to the band is still difficult though, because you have to present it to so many people.
How large was your band when you first started out? How and why did it expand?
NM: The band started out with seven members in Goshen, Ind. It was basically a college party band, and disbanded when a bunch of its members graduated. However, Jake Miller, our lead vocalist and primary songwriter, decided to reform the band after going through a summer of post-college soul-searching. Four more members were added. I don't think there was any intensive searching; Jake just had more friends who could play instruments, so why not add them? Then when they decided to move to Nashville, the bass player, Rafael Chavez, stayed back, so they added me on bass. But now Rafael is back with the band playing keys, so we've moved up to 12 members.
I'm guessing with so many people, there are a lot of musical influences that go into this project. How do you incorporate them? Do they ever clash?
NM: Yeah, everyone has their own type of musical style they're into, whether it's punk-rock, hip-hop or prog-rock. They get incorporated pretty organically. We might have a musical genre in mind before we start writing, but then everyone's individual techniques and influences come forth and mesh into an auditory orgy of different styles, and it morphs into something new and original. It's an ongoing process, however. Of course we sometimes disagree, and sometimes songs don't turn out the way certain people want them to. We're still figuring out the best ways for us to write songs. We've been working on new material utilizing a new method of writing where each band member writes and directs a song.
What sparked the idea for a video game to go with your song "Jesus the Horse Thief?" Who designed it?
NM: A couple of us were just joking about making a music video game one day, and then we realized that we could very easily make that idea a reality. One of our good college friends, Michael Neumann, is a video game developer, so we asked him to create a video game for one of our songs. We gave some input here and there, but mostly just let him do his thing. You can find his games at dream-bot.com.
What are you working on now, and when do you expect to make another record?
NM: We want to take our time with this next record. Our last two records were pretty rushed. They were also made without producers. It's difficult having 12 people produce a record. This next record is going to be very focused, because each band member is going to be in charge of one song. A lot has happened between Hotel Chicamauga and now. We have a better idea of the recording process now, we have a manager, we've toured more, and we're just a lot more open with each other when sharing ideas and criticisms.
How was Hotel Chicamauga different from previous recordings?
NM: The first album, Ad Astra per Aspera, was just a collection of songs KBC had at that point. With Hotel Chicamauga, we were trying to make a concept album. There are themes and characters that tie songs together. We also started experimenting more with song formats and time signatures as the songwriting process became more democratic.
Your sound varies so much from song to song. What are your favorite songs to play onstage together?
NM: Everyone in the band has their own favorite KBC songs. But I think we all love playing the three songs in the Surf Rock Trilogy. I'm actually kind of upset that I wasn't around when it was written, because it is so much fun to play.
At the last KBC show I saw in Nashville, I witnessed a sort of water-bottle baptism followed by everyone putting their instruments down and dancing. Are the theatrical aspects of your stage performance premeditated, or do they just develop spontaneously on their own?
NM: Most of it is spontaneous. The horn line comes up with dance moves during practice sometimes, and sometimes we decide before the show that we're going to do something weird. For example, we played the Communion show at the Basement in Nashville and decided beforehand that we were going to serve communion. So we brought little communion cups and wine. For another show we all wore dresses. Honestly though, most of the time I won't even know about the shenanigans that other bandmates are doing until after the show.
Your horn section gets hired out. Is KBC the top priority in relationship to other musical collaborations?
NM: Some of the horn guys get hired out for other projects, but KBC is definitely top priority. There is no question about that. Nobody gets paid in this band, although we're currently working towards getting the band to cover our rent. For now, we're just doing this for the love of the craft and community.
With such a large lineup, you've got to all be able to work together and bring something. What do each of you bring to the table that's vital to KBC?
NM: Some people are great at starting the songwriting process, some people write cool parts, some people are really good at booking shows, dealing with the band's money or doing maintenance on the vans. And some people are just positive influences to have around. Everyone is influential musically, but everyone also has personality quirks that keep the band ticking.
Tell me more about your songwriting process.
NM: It's an evolving process. We're still working out how to do it. Early on, Jake Miller wrote all the songs and acted as the bandleader. With Hotel Chicamauga, things became pretty democratic, which led to some very different and interesting places, but it was also frustrating when everyone was trying to voice their opinion at once. Recently, we've moved on to having everyone take turns being the bandleader. It's kind of an anarcho-syndicalist method of being a band. Kind of like the type of government Dennis the Peasant describes in Monty Python and the Holy Grail. It's been working well.
Is handling the business side of things easier with so many band members, or more difficult?
NM: We have a manager now, and he is awesome. He's been helping us with all aspects of band business. All of us contribute to the band management as well. Having 12 members makes it easier to pass out various job assignments, but it can also be very difficult to get something done when people start assuming that because the band is so big, someone will take care of a problem. We're working on getting some booking agents. Currently, our manager and a couple of our band members do all the booking.
For more on the KBC, visit kansasbiblecompany.com.