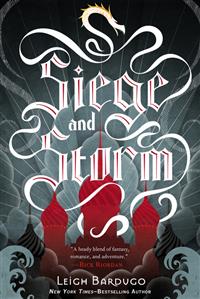 Review by Michelle Palmer
Gifted sorcerers known as Grisha, a dark lord made greedy with power, and a land divided by impenetrable darkness: This is the world created by Leigh Bardugo in her wildly popular series, the Grisha trilogy. The first book in the series, Shadow and Bone, created a cult following, with talk of movie rights and fans eagerly anticipating the sequel.
Siege and Storm, Leigh Bardugo's second in the Grisha trilogy, picks up right where the first book left off—Alina, a Grisha known as "the Sun Summoner" and her friend Mal have made a life for themselves after fleeing their homeland of Ravka and leaving their nemesis, the Darkling, behind. But a young girl radiating power and her handsome young companion are easy targets, and it's not long before the Darkling has tracked them down and kidnapped them. Fans of Bardugo's books know to expect the unexpected, and Siege and Storm is no different. Alina and Mal are freed from captivity by an unlikely ally, a pirate known as Sturmhond, and in a stunning plot twist, Alina and Mal find themselves heading back to Ravka.
As a main character, Alina has shown tremendous growth from the first novel. She is far from the abandoned orphan and outcast she was in the beginning of Shadow and Bone, and the powers she harnessed have only continued to grow, particularly with the addition of the scales of a fabled ice dragon. Haunted by the deaths she has inadvertently caused, frightened by visions of the Darkling and her own need for more power, Alina has developed from a naïve girl into a complex young woman and a force to be reckoned with. As Ravka continues its descent into ruin, Alina realizes that she may be the only force strong enough to stop the Darkling from taking over. With a ragtag group of Grisha, military deserters, and the remains of the Royal Court, Alina gathers an army to prepare for battle against the ever-strengthening Darkling.
To reveal much more of the plot would be to give away an ending that will have you clamoring for the final installment, due out next year. Although there is enough background information included within Siege and Storm for it to be read as a standalone novel, new readers will find the journey far more enjoyable by reading Shadow and Bone first. Bardugo's rich imagination and character development make this series a highly enjoyable read, especially for those looking to get lost in a good book.
Michelle Palmer is Read To Succeed's One Book Committee Co-Chair and author of the blog, Turn of the Page (michellepalmersbooks.blogspot.com).