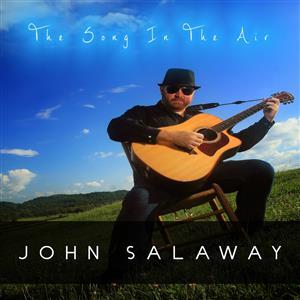 John Salaway is one of those artists people around here tend to know but may not really know. His name pops up frequently on Murfreesboro music venue calendars, his name floats around the Nashville area and he has performed with lots of high-profile musicians and bands. Yet the musically adroit multi-instrumentalist (who produced, recorded and sang every song on his latest record) is still not exactly a household name.
Be that as it may, the craftsmanship and sonic charisma of The Song in the Air, recently released through Def Kat Music/ASCAP and recorded at RCA Studio B in Nashville, can't be denied.
The roster of artists with whom Salaway has worked is extensive; he has performed with Peter Frampton, Ben Folds, Paris Delane, Gordon Kennedy, Guitar Shorty, Mystery Trip Beatles Revue, Gary Nicholson, Anson Funderburgh, Nick Nixon, Marion James, Maynard Ferguson, Kenny Olsen and Beatles tribute act Sixty Four.
A music business and recording industry graduate from Middle Tennessee State University, Salaway knows the industry and has done the Music City routine of writing with other songwriters in Nashville, but his latest album proves his worth as his own songwriter and one-man band.
The 10 tracks on The Song in the Air have a tonal charm with a just-opened-your-eyes combination of sleepy and happy to be newly awake. It's fairly ridiculous to compare anyone to The Beatles, only because virtually any musician that followed The Beatles' era was influenced by them; they were the language and bands that followed them are dialects. There are a few, however, that champion the particular shade of tra-la-la breeziness, like Salaway on his understatedly chipper album.
His most poignant admonition is Turn off the news and you just might feel something beautiful—a resonant message in a day when melancholia is splashed globally through the media.
Songs like the title track, "Something Beautiful" and "Only Love Can Save Us Now" possess the "Dear Prudence" vibes and provide a breath of fresh air—feathery, uplifting and easy—which was the artist's intent: "My goal was to write about positive change in ourselves and in our world and these were the songs in the air when I was writing it," he says.
Find Salaway's performance dates, the new release available for purchase and more information at johnsalaway.com.