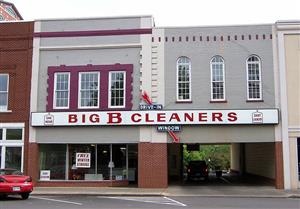 The Murfreesboro's Most Haunted list presented here was assembled based on the experiences of local paranormal investigators, reader submissions and my own personal explorations in search of the unknown. Here's what made the list:
Stones River Battlefield – It's the site of more than 3,000 deaths and one of the bloodiest battles of the Civil War. Numerous sightings of ghastly apparitions have been reported for decades in and around this historic area. Entire troop formations that disappear without a trace have been witnessed here.
Social (formerly Blue Rooster and Bluesboro) – I saw some pretty frightening things at this bar when I used to hang out there. But according to the Shadow Chasers of Middle Tennessee, a number of electronic voice phenomenon or EVPs (alleged ghost noises) have been recorded in the basement, which sound like people playing billiards in an area with no pool table.
Center for the Arts – Another submission from my friends at Shadow Chasers, the Center for the Arts is said to host more than just live performances. It seems the dead also perform their own kind of show at night and that the voices of children laughing have been captured by recorders.
Davis Market – Many know of the "curse of Davis Market" and that it's actually the center of the universe. But there's more to this place than these urban legends. Some employees have experienced strange happenings like objects moving, doors slamming and calculators running numbers with nobody around.
Black Fox Camp Springs – This general area is where some of the first settlers in Rutherford County made their homes. It's located along the Nickajack trace, an ancient Native American highway which ran all the way down to Spanish Florida. According to legend, Chief Black Fox escaped an attack by diving into the spring and emerging three miles away at Murfree Springs. I've heard drums beating here on more than one occasion and was unable to identify the source.
The Black Cat Tavern – This abandoned underground speakeasy from the days of prohibition is not just a little spooky; the first time I went inside the cave I heard voices and what sounded like music coming from somewhere deep underground.
Smotherman's Antiques – Melinda Blick of Stones River Paranormal considers this local antique store to be a paranormal hotspot. It makes sense that it might manifest some activity. This business houses a collection of items belonging to dead people in a building that has its own lengthy history.
The old MTMC Hospital  – Although the lot where the old hospital stood is now empty, some vivid accounts were shared with me by former employees of the old hospital. These included witnesses seeing floating objects as well as phantoms which appeared to comfort the dying.
Big B Cleaners – The haunted dry cleaners might not sound so spooky. But Big B was once the site of a local taxi service back in the 1920s. It was during this period that a murder took place, and it's believed that the victim may still be lingering. Investigators who have probed this location have witnessed mysterious lights and sounds coming from the building.
Oaklands Plantation – Although it has never been formally investigated (to my knowledge), this stately home from the early 19th century made the list by default. The location was home to a large number of slaves and was the site of an engagement between Union and Confederate forces during the Civil War. Perhaps the Oaklands Association will someday allow an investigation of the house that will validate its place on this prestigious list of haunted places in Murfreesboro.
Lugares más embrujados de Murfreesboro
La lista de sitios más embrujados  de Murfreesboro  que se presenta aquí fue compuesta por las experiencias de algunos investigadores paranormales, los lectores y mis propias exploraciones en busca de lo desconocido. Veamos la lista:
Campo de Batalla del Stone's River – Lugar al que se le atribuye más de 3000 muertes y una de las batallas más sangrientas de la Guerra Civil. Han reportado numerosos avistamientos de horribles apariciones durante décadas en y alrededor de esta zona histórica. Formaciones de tropa entera ha sido vista aquí por testigos, tropas que desaparecen sin dejar rastro.
Social (anteriormente el Blue Rooster y Bluesboro) – vi algunas cosas bastante aterradoras en este bar cuando solía pasar por ahí jeje. Pero según los Shadow Chasers of Middle Tennessee, se han registrado una serie de fenómenos de voz electrónica (EVP) (presunto sonidos fantasmas) en el sótano, donde suena gente jugando al billar en un área donde no hay mesa de billar.
Centro de las Artes – Otra recomendación de los Shadow Chasers, sobre el Centro de las Artes se dice que dan más que las presentaciones en vivo. Los muertos parecen querer también realizar su propio espectáculo por la noche y que las voces de risa de los niños han sido capturadas por las grabadoras.
Davis Market – muchos saben de la "maldición del mercado Davis" y que es el "centro del universo". Pero hay más que leyendas urbanas en este lugar. Algunos empleados han experimentado extraños sucesos como objetos que se mueven, golpeando puertas y calculadoras ejecutando números por si solas.
Black Fox Camp Springs – esta zona es donde algunos de los primeros colonos en el Condado de Rutherford hicieron sus hogares. Se encuentra a lo largo de la traza de Nickajack, una carretera antigua de los indios que antiguamente llegaba hasta la Florida española. Según la leyenda el jefe Zorro Negro escapó de un ataque zambulléndose en el manantial y surgiendo en Murfree Springs a tres millas de distancia. Yo  he oído tambores (bidones) que golpean aquí en más de una ocasión y era incapaz de identificar la fuente.
 La Taberna del Gato Negro – Esta taberna subterránea y abandonada a partir de los días de prohibición de alcohol no solo es misteriosa, la primera vez que entre en la cueva oído voces y sonaba música proveniente de algún lugar profundo bajo la tierra.
Smotherman's Antigüedades – Melinda Blick de el grupo Stone's River Paranormal considera este anticuario local como fuente de actividad paranormal y es lógico que pueda manifestar cierta actividad. Este negocio alberga una colección de objetos pertenecientes a personas muertas en un edificio que tiene su propia larga historia.
El Viejo Hospital (MTMC) – Aunque el terreno donde se encontraba el antiguo hospital ahora está vacío, algunos relatos vívidos fueron compartidos conmigo por ex empleados del antiguo hospital. Éstos incluyeron testigos de ver objetos flotantes así como fantasmas que aparecieron para consolar a los moribundos.
Big B Cleaners – Puede ser que  una lavandería embrujada no suene muy espeluznante. Pero Big B una vez fue el sitio de un servicio de taxi local en 1920. Durante este período ocurrió un asesinato, se cree que la víctima aún puede ser persistente. Los investigadores que han sondeado esta ubicación han presenciado misteriosas luces y sonidos que provienen del edificio.
La Plantación de Oaklands – Aunque nunca se haya formalmente investigado (que yo sepa) esta casa majestuosa a partir de principios del siglo XIX hizo la lista automáticamente. La mansión fue patria de un gran número de esclavos y lugar de batalla entre las fuerzas militares del Unión y Confederadas durante la Guerra civil. Quizás la Asociación de Oaklands permitirá algún día una investigación de la casa que validará su lugar a esta lista prestigiosa de sitios más embrujados de Murfreesboro.