We made direct amends to such people whenever possible except when to do so would injure them or others.
Somewhere along the line, things went wrong. Mankind became in desperate need of fixing. Simply stated, God needed to speak life into us because we all suffer from the "hurt" in our lives. We've become damaged goods! Much of the recovery process is repairing the brokenness. This requires us to make peace with God, ourselves and with others whom we have alienated. Even the larger-than-life personalities feel the isolation, guilt and shame caused by what has been done to them and what they have done to others. Undoubtedly, at times we will feel alone in the struggle to avoid betrayal, filled with the fear of being hurt. Defensively and instinctively we cut ourselves off from others, allowing loneliness to hamper our efforts to break the recovery process.
Individually, when you prepare to make amends, consider making peace with yourself and others by overcoming the isolation. Open your heart to receive the healing power of love that God wants for you so that you can experience the wholeness offered by that love. Everyone needs not only the loving hand of God, but the supportive friendships and strengthening relationships offered through others you can trust and who can offer love with skin on!
One of those larger-than-life personalities, with his deep, resonant baritone voice, was Johnny Cash. With his distinctive, world-weary sound, Cash became one of the most recognizable figures in country music. As Cash's style evolved between the 1950s and 1970s, he became one of the most imposing influences in American music, creating a unique sub-genre which was neither rock nor country.
For all his personal success, Cash was a tormented soul plagued with unresolved demons stemming from his childhood in Arkansas. Throughout his life, he battled substance and alcohol abuse  that at times wore him down and, eventually, nearly took his life. During his most turbulent times, Johnny's life was filled with pill popping, cancelled shows, arrests and a heap of broken relationships including his first marriage. Consistently, he was severely underweight from his use of amphetamines and other drugs. Once he commented about his condition, "I was a walking vision of death. And that is exactly what I felt about myself!"
Amid his obsessive self-loathing and self-doubt, Cash allowed his calamity to become the catalyst and inspiration for dozens of successful records with which his fans identified, finding within them forgiveness and empathy. After converting to Christianity, Cash struggled with conflicting emotions teetering between rising hope and stifling depression. He had become a self-destructive addict, yet with his almost magical charisma and bad-boy behaviors, he became an internationally known, mainstream superstar.
With a promise and a pledge to clean up his old habits, his wife, June Carter Cash, whom he married in 1968, helped him conquer those addictive behaviors. They remained a couple until her death from heart failure on May 15, 2003. Johnny passed away only four months later, heartbroken from her loss, on Sept. 12, 2003, at the age of 71. Johnny once said that June would "lift me when I was discouraged and love me when I felt alone and unloved. She was the greatest woman I have ever known." For him, she was that love with skin on! This year marks the 10th anniversary of their passing.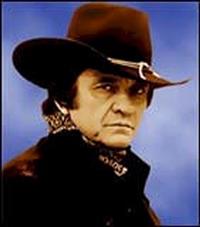 Near the end of his life, Johnny recorded one of the most stirring and potently cautionary drug-use songs in the rock canon: "Hurt," written by Trent Reznor and appearing on the album The Downward Spiral by Nine Inch Nails. (The needle tears a hole/The old familiar sting/Try to kill it all away/But I remember everything)
In 2003, just before his death, Cash recorded the song for the album American IV: The Man Comes Around. The music video for the track, produced by former NIN collaborator Mark Romanek, captured the essence of Cash in his final days; his fragility as well as his life's paradoxical story. This work is widely considered to be his epitaph. June's appearance in the video, adoringly gazing at Cash, is moving and sentimental. She died in May shortly after the filming of the video and just before both song and video were released.
Cash's version of the song "Hurt" has won numerous awards including Single of the Year in 2003 from the Country Music Association. In July of 2011, the music video was named in Time magazine's " The 30 All-Time Best Music Videos."
Becoming one of the biggest fans of the Cash version of his song, Trent Reznor remarked, "Popped the video in, and wow . . . Tears welling, silence, goose-bumps . . . Wow. [I felt like] I just lost my girlfriend, because that song isn't mine anymore . . . It really made me think about how powerful music is as a medium and art form. I wrote some words and music in my bedroom as a way of staying sane, about a bleak and desperate place I was in, totally isolated and alone. [Somehow] that winds up reinterpreted by a music legend from a radically different era/genre and still retains sincerity and meaning — different, but every bit as pure."
For Cash, the song, "Hurt" is a poignant, visual representation of his memories in the shadow of his own death. It is the acceptance of life's regrets and the foreboding inevitability of age and slowly watching your life come to its end. With its creative symbolism, Cash's delivery is done with solemn dignity in words. But to witness Cash's demise under the weight of his pain and sadness is almost too much to bear. One can understand why that death was the only way to free his broken heart.
After completing Step 8—made a list of all persons we had harmed, and became willing to make amends to them all—the next logical step is to make those amends if possible, and the suggestion is to do so directly to those who have been harmed. By making direct amends to the person harmed, there is the temptation to skirt the issue because of embarrassment or pain.
In Step 9, we continue to concentrate on the relational side of recovery, making direct amends. Returning to someone who has hurt you or whom you have hurt is a scary thing! Perhaps the passing of time, distance and lack of communication, not to mention the anger and pain of all the neglected promises, can no doubt trigger tremendous anxiety, even grief. Just the thought of any face-to-face encounter can elevate the angst. Facing the fear courageously can bring a tremendous sense of relief. Peace and more healing are found in facing that fear with boldness and anticipation.
Step 9 is another one of the 12 steps that initially appears most difficult, but the rewards of putting this principle into practice can be immense. The spiritual principle involved is that of forgiveness, not only from others, but forgiveness of self, which can bring healing to both parties. As we work this step, we can conclude that making amends offering forgiveness to those whom we have hurt or have hurt us is the only way our recovery can get traction.
Simple, but not easy! Those making the amends may find that the person whom they have harmed is more than willing to accept those amends happily—and a healing process begins not only in the relationship, but in each individual. This is not always the case, however. Sometimes the injured party is not willing to forgive and forget. Regardless, spiritual progress for those in recovery depends upon doing their part and making direct amends.
This step does carry a condition: except when to do so would injure them or others. If the act of making amends by the act of forgiveness will open old wounds or create new harm, then making direct amends should be avoided. The benefit of making amends to the recovering person does not outweigh the need to do no more harm. As we pray and seek God for wisdom, we can trust that He will relate truth to us through our open spirits and reconcile those personal relationships.
Ninth Step Promise from Alcoholics Anonymous
If we are painstaking about this phase of our development, we will be amazed before we are halfway through. We are going to know a new freedom and a new happiness. We will not regret the past nor wish to shut the door on it. We will comprehend the word serenity and we will know peace. No matter how far down the scale we have gone, we will see how our experience can benefit others. That feeling of uselessness and self pity will disappear. We will lose interest in selfish things and gain interest in our fellows. Self-seeking will slip away. Our whole attitude and outlook upon life will change. Fear of people and of economic insecurity will leave us. We will intuitively know how to handle situations which used to baffle us. We will suddenly realize that God is doing for us what we could not do for ourselves. Are these extravagant promises? We think not. They are being fulfilled among us, sometimes quickly, sometimes slowly. They will always materialize if we work for them.
Celebrate Recovery is that safe place where people can remove the mask of denial and be open and honest. If you are interested in finally dealing with the pain of your past, there are people who will stand with you as the truth becomes a way of life. In Celebrate Recovery, where anonymity and confidentiality are basic requirements, one can address life's hurts, habits and hang-ups utilizing biblical truths. One can find change in a personal relationship with Jesus Christ, the one and only Higher Power. There are now three Celebrate Recovery meetings in Murfreesboro: one every Monday at 7 p.m. at North Boulevard Church of Christ, 1112 Rutherford Blvd.; one every Tuesday at 7 p.m. at Belle Aire Baptist Church, 1307 Rutherford Blvd.; and another every Thursday at 7 p.m. at New Vision Baptist Church, 1750 Thompson Lane. For more information about the ministry call Tom Christy at (615) 896-6288.