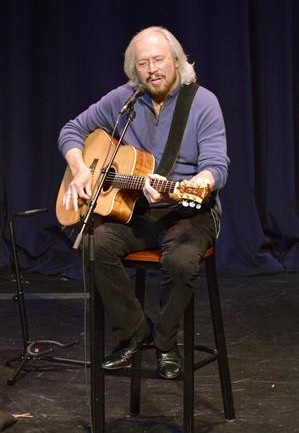 It was Monday Night Fever.
On Monday, Oct. 28, students and staff at MTSU had the pleasure and privilege of hosting Barry Gibb, founding member of the Bee Gees and a songwriter and producer unparalleled in the overall breadth and success of his 50-plus-year career. That evening, at MTSU's Tucker Theatre, Gibb accepted the Inaugural Fellowship of the Center for Popular Music from Dr. Dale Cockrell, director of the campus' world-class research facility and archive, and Ken Paulson, Dean of MTSU's College of Mass Communications.
The moment was met with a roaring ovation from a crowd of more than 900 (intimate, really, by international pop-star standards).
Cockrell said that Paulson "is interested in gaining wider visibility and appreciation for the work of the Center for Popular Music. The idea [for the Fellowship honor] was his," said Cockrell, "and it took me a nanosecond to see that this was a good idea."
Now, thanks to MTSU and its world-class pop-music research center, Murfreesboro has a personal friend in Barry Gibb. If that isn't enough to make you want to leap from the Barcalounger and get down with some of the dapper disco moves immortalized by John Travolta in Saturday Night Fever, you may need to check your pulse.
The pulse rate of this writer was running higher than usual when he . . . that is, I (let's drop the formalities, shall we?) . . . found out on Monday morning that Mr. Gibb was going to be appearing just down the road. Free. Imagine that. It also sped up a tad when I happened upon the pop legend being ushered toward the stage door entrance as I walked past, carrying an album I was wishfully hoping he might autograph. Oh, well. It was only a glimpse, but I noticed there seemed to be no airs, no aloof celebrity body language. It was an accurate impression, as I would soon find out while listening to Gibb share music and talk openly with MTSU faculty member Beverly Keel about his life, his career and his equally famed brothers. At one point, he spoke vulnerably about the Bee Gees' outrageously huge success in the '70s, when disco madness elevated and then devastated the trio's career.
True confession: I was once a Bee Gees turncoat, a true-blue appreciator of their work who hitched a cheap ride on the Disco-Sucks bandwagon once Saturday Night Fever reached epidemic proportions and intolerant rockers like myself revolted en masse. I have since reevaluated my formerly thickheaded opinion (though I still faithfully avoid K.C. and the Sunshine Band whenever possible), and in fact defended Gibb and his once-maligned siblings in a recent feature story for SyndicatedNews.net, where you can read an in-depth account of Gibb's MTSU appearance that serves as a brief overview of the Bee Gees' career.
Here in the friendly neighborhood Pulse, though, I'll seize the opportunity to publicly thank the very nice lady seated next to me, who noticed folks rushing the stage for autographs and urged me to run like the dickens to get my vintage LP signed as Gibb began his exit (something I'd have probably waffled about doing had she not egged me onward before my super-ego could protest). There were more outstretched arms along the front of the Tucker stage than the apologetic star could reasonably accommodate, but my original copy of the Bee Gees' Odessa turned out to be the very last item he signed. Thanks much, Murfreesboro-ma'am, for the push. I needed that.
Signed vinyl in hand, I walked back to my car quietly satisfied and thinking about my big brother, who in 1969 had hoofed it down to the local Woolworth's to buy the now-collectible double-album with the red-flocked and gold-lettered jacket. I'll bet it wasn't more than five bucks, if that much. I drove home (with Bee Gees' 1st in the CD player), inspired to have witnessed the sincerity and accessibility of a true pop music giant and grateful that MTSU was a place where something like this could happen. Welcome to the 'Boro, Barry Gibb.