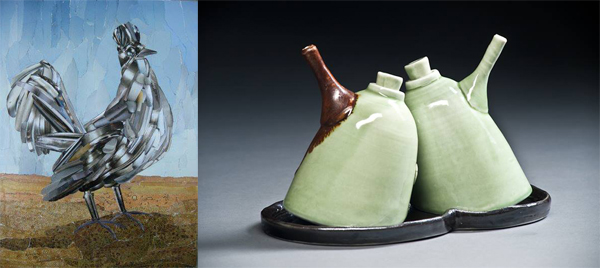 Each year, the weekend prior to Thanksgiving, local arts and crafts producers welcome the public to their home studios for a special Art Studio Tour.
2013 marks the 20th year of this project, and more artists than ever in Murfreesboro and the surrounding areas will show work.
Organizers invite all to visit the studios, meet the artists and see how various items are made during this free community event, held Nov. 23-24. They also intend for the tour to serve as a financial boost to the artists, as its regular occurrence on the front end of holiday shopping season may encourage some to leave a studio with a gift for a loved one—creativity, commerce and community, all while taking a Tennessee tour among the fall colors.
The tour features a wide variety of styles and media, including paintings, forged iron, pottery, stained glass, weaving, woodwork, jewelry and functional home accessories and furniture.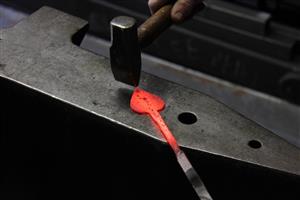 Blacksmith Joe Brown has opened his workshop during tour weekend for 17 of its 20 years.
New this year at the Brown Blacksmith facility, located on Cripple Creek Road, will be a gallery space.
"Hopefully, by the Studio Tour, this space will be finished," Brown said, looking at a new gallery space expansion to his workshop. "I've been wanting a gallery for a while."
It will give those visitors from Studio Tour weekend, and art enthusiasts and customers for the years to come, more room to view his metalwork.
In the new space, showing alongside Brown at this year's tour is his daughter, Erin.
"She makes beautiful antebellum dresses; she does a lot of the costuming for Oaklands Mansion. She can sew anything," the proud father brags; Erin also produces earrings and other items from fine thread through a process called tatting.
Brown got his start in the blacksmithing trade after inspiration and encouragement from the Rutherford County Blacksmiths Association (which hosts frequent demonstrations and classes at Cannonsburgh), and many local artists take a pay-it-forward attitude toward the tour and the local art scene in general.
If a youngster sees a how painting, or a piece of furniture, pottery or jewelry, is made, that could spark an interest in the next round of artists and producers.
While Brown's gallery will be a nice, open, calm place for the finished products to reside, the adjacent workshop is where the action is.
"This forge runs at about 10,000 degrees," the craftsman says, as he hammers out a leaf from red-hot material.
"I've made thousands upon thousands of leaves over the years," Brown said.
Leaves, with their pointed ends, veins, and natural S-curves and cupping, have become somewhat of a signature for Brown, and he can now take an iron rod to a beautifully ornate leaf in less than 10 minutes.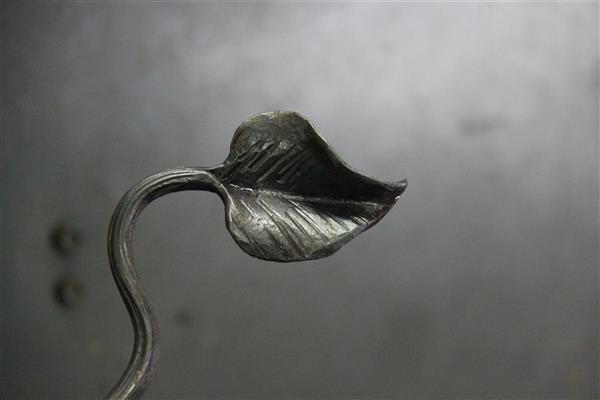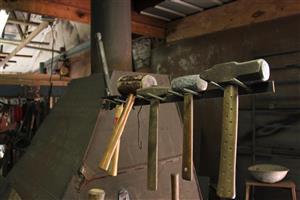 Brown also produces the functional, in addition to the decorative.
"Most of my tooling is stuff I've built," he said.
He has actually created for his own arsenal hammers, tongs, even a complex looking piece of machinery that bangs with force against hot metal as Brown creates his art.
"I looked up the plans for this power hammer," he said. "But I built it out of scrap."
Also on the Readyville end of the tour will be Alan Daigre and his wooden furniture work.
Many of the studios involved will host guest artists, in addition to the residing craftsman or woman, so viewers and shoppers may be able to take in work from 3 or 4 different artists at a single stop.
The Stones River Craft Association will kick off the celebration of its 20th anniversary at Mayday Brewery from 7-10 p.m. Friday, Nov. 22. Stones River Pilots will perform, and that event is also free and open to the public at 521 Old Salem Hwy.
Throughout November, the Center for the Arts gallery, just off of the Square, will display "Works from the Art Studio Tour," a group exhibition featuring artists of the Stones River Craft Association's annual tour. The exhibit will encompass ceramics, metals and jewelry, woodworking, textiles and fibers, glass and mixed media, as well as paintings. The gallery is open, free to the public, Tuesday-Friday, 9 a.m.-5 p.m. and Saturday 10 a.m.-5 p.m. This exhibit represents just a sampling of the wide variety of artists, mediums, and techniques that can be seen at the Art Studio Tour, Nov. 23-24.
Also new for this year's tour, the Murfreesboro Art League building at Cannonsburgh will host another team of area artists the weekend of the tour.
THE STUDIOS:
POPCORN STUDIO POTTERY
2031 Nelson Lane
Ray & Sue Allen – Stoneware
Guest Artists:
Daune Jordan – Eggery
Tom Fuhrman – Glass
Don Rounsavill – Wood
STUDIO S
1426 Avon Road
Lewis & Eric Snyder – Functional & Decorative Pottery
Guest Artists:
Mary Miller Veazie – painting
Dolores Weaver – jewelry
CENTER FOR THE ARTS
110 W. College St.
Guest Artists:
Norris Hall – Clocks, Illustration
Ramsey Hall – jewelry
Teresa Hays – fiber
Vickie Vipperman – fiber
Anne Rob – jewelry
Marc Barr – clay
Doug Pelren – wood
Clay Bush – salvaged seatbelt bags
Alf Sharp – wood
ELIZABETH BRAY JEWELRY – Handcrafted Jewelry
521 E. Main St.
Guest Artist:
Greg Pennington – wood
MURFREESBORO ART LEAGUE
Cannonsburgh Village, 312 S. Front St.
Guest Artists:
Harry Polny – painting
Carol Berning – painting
Ted Stanley – painting
Marilyn Brisbois – painting
Phyllis Razo – painting
Pete and Alice Semich – knives
Merry Adams – jewelry
Matt Estrada – birdhouses
JOE BROWN BLACKSMITH
3538 Cripple Creek Road, Readyville
Joe & Kerry Brown – Forged Iron
Erin Elizabeth Brown – fiber
Guest Artist:
Maggie Sunsera – fiber
ALAN DAIGRE DESIGNS – Furniture
5323 Ferrell Hollow Road, Readyville
Guest Artists:
Cindy Daigre – herbs
Mike and Louise Kelley – pottery
Tracy Yarbrough – painting
RED OAK POTTERY
2925 Spain Hill Road, Lascassas
Bill & Judy Heim – Ceramic Stoneware
Guest Artists:
Mike Zinser – wood
Mark Jackson – paint
Kathryn Faille – fiber
HOLLER DESIGN
Lascassas
Matt Alexander
Guest Artists:
Katie Vance – knitlaces
Donald Alexander – painting
EVERICH FARM
8695 Hwy 269 Bell Buckle Rd, Christiana
Eva Berg – Alpaca and Pygora Fiber Wearables
Guest Artists:
Becky Shelton – painting
Heloise Shilstat – paper mosaics
ART BARN
8190 Highway 99, Rockvale
Dawna Magliacano – mixed media
Guest Artists:
Kevin Rains – wood
Michelle Sweat – assemblage
Silver Ridge Pottery
3712 Chicken Rd., Lebanon
Lee Marshall
Guest Artist:
John Sellberg – clay
Maps will be available at all of the participating studios.
"Join the adventure finding the artists and studios that you never knew were there," the tour website invites.
For more information, or to view more of the work included in the tour, visit artstudiotour.org or check out Art Studio Tour on Facebook.