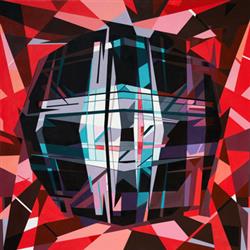 One or two unfortunate times growing up, I played racquetball, ducking to avoid the hollow, blue rubber ball that may as well have been a loose cannon sounding its cold, echoing call each time it ricocheted off the wall. I hate racquetball; but the same intense, reverberating vibes of the game could describe, in a positive sense, the aural feel of Mantra Mantra Mantra's Before You Came/After You're Gone EP, released in August of this year. Feedback clouds the mind and thin, spiraling guitar riffs disorient throughout the five tracks, produced by the band—Asher Johnson on bass, synth, tape and vocals; Greg Dorris on guitar, synth and vocals; and Brian Klassen on drums and vocals—and recorded at Spaceship Studios in Murfreesboro.
"No Sunlight" is a blissful, resonant start to the album, awash in needling guitar and percussion that's saying 'ssshhhh' as the title is repeated like a levitating mantra. "Hate On You" has a needling riff that becomes tiresome, but the unearthly deadpan echo of "Everything" is better as well as the downcast keys of "We Were Singing This Song." For the closing track, a spastic mish-mash of synth resounds in distorted splendor before Mantra Mantra Mantra wash the album out to sea with a sound effect of waves lapping at the shore.
At certain random points as the guitar whines, the hi-hat splashes and earnest vocals push emphatically through the static, Sunny Day Real Estate comes to mind. But the selling point: Mantra Mantra Mantra tells you how to become "the coolest guy" in the world (it's actually quite simple). Overall, Before You Came/After You're Gone is five solid, fun tracks on the fringe of trippy that would put Murfreesboro's house show-goers into a comfortable trance.
Check out the record at mantrax3.bandcamp.com and like Mantra Mantra Mantra on Facebook.