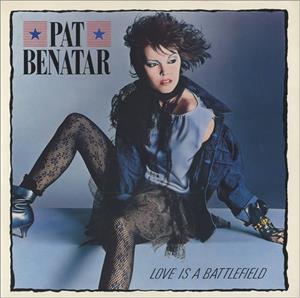 We continued to take personal inventory and when we were wrong, promptly admitted it.
It all seemed so futile. What's the use? The decision had been made—divorce. It had been made long before the doors slammed, the departure from Memphis, and the move back to Murfreesboro. After a four-week separation, my green station wagon, a symbol of the American dream and normalcy, was crossing the Mississippi heading toward Memphis. The scream of an electric guitar blasted over the radio. Every screeching note intensified my determination. Was this how it was to end? From my hopeful teen years, 10 years of marriage, to a young family in shambles with my core value system being compromised, I found myself in a nightmare of shattered dreams with an emotionally abusive, full-blown alcoholic with a drug addiction.
We are young, heartache to heartache we stand
No promises, no demands
Love is a battlefield
Woah, we are strong, no one can tell us we're wrong
Searching our hearts for so long, both of us knowing
Love is a battlefield
(From "Love is a Battlefield" by Pat Benatar)
As I slipped onto the ramp driving toward my destination on Stage Road, I resolved do whatever it would take to get my husband to leave the other woman and come home. Within six weeks, an impregnable net of evil had covered the family, sowing seeds of discord and destruction. His lifestyle had been reckless, yet up until now it was hidden from plain view. For so long, my dreams and future had been linked to him.
A crisp, cool autumn wind had transformed the summer scene. Within only four weeks, suddenly and without warning, the scorching Memphis summer had ended. With a bite and a chill, autumn had transformed the park on Stage Road into brilliant color—yellow, crimson and russet. November in Memphis had become wildly fragrant, thrilling the senses! I could not resist the beauty even though my heart was broken!
He got out of his car and with one maneuver he opened the door and plopped down into the seat. After a four-hour drive and a long rehearsal of what to say, I could not speak. A minute or so passed in silence as we sat speechless and almost motionless. An unexplainable glaze appeared in his eyes and tears began to well up and fall from his eyes. In that moment, the realization was more than just a husband leaving his wife for another woman.
The love we had shared had become a battlefield, with brokenhearted casualties along with the obvious mental and emotional agony. Apparently, the power separating us was beyond the physical and into the metaphysical, invisible forces of evil beyond my ability to control. As I looked into his tearful eyes, I realized the magnitude of the situation and the unseen energy facilitating every thought and action. I was losing the battle to save the marriage. No longer could I uphold the dream and pretend that things were normal.
Speechless and numb from all the emotion, helplessly, I watched him sob and sob. My determined mind thought, "I will love him more and my love for him will conquer this evil that surrounds us and our family. I will do whatever it takes to win the battle to save our little family!
Long before Lady Gaga, Miley Cyrus, or even Madonna, there was Pat Benatar. In the 1980s, with her alluring mezzo-soprano voice, she took female rockers to a new level. In 1983, "Love Is a Battlefield," was released from her live album, Live from Earth. Along with its appearance in the first video to feature spoken dialogue, the song would net Benatar her fourth consecutive Grammy for Best Female Rock Performance. After topping Billboard's Mainstream Rock Tracks for four weeks, the song peaked at No. 5. Benatar was a classically trained opera singer who broke ranks and genres to become one of the most influential female artists of her day. In the day, young women wanted to be like her and young men wanted to be with her.
In the 1980s, in some way, I identified with Benatar's tough-girl persona and "Love Is a Battlefield" became my marching orders. Ignorant and naïve of the spiritual battle ahead, my determination to fight and become a warrior for my family was an obsession that nearly destroyed me. It would take years for me to understand that the battlefield was not love at all but was in my mind.
The human mind is the pinnacle of God's creation, but so few use it for its primary purpose—knowing God. The mind can be a continual place of spiritual communication between God and us. Only the human creation is capable of receiving and responding spiritually to God, learning to know God as friend and simultaneously as Lord. God is all around us encircling us with His Golden Light of Love. Our minds must yield and turn toward that Light. As we turn, we are able to learn the meaning of infinite and eternal. Problems, inadequacies and frailties become insignificant as we are touched and transformed for a higher purpose.
Out of the ashes of adversity, we can allow our minds to be renewed as we take quantum leaps to change them. We no longer have to live our lives from a "rear-view mirror" perspective with a stream of "woulda, shoulda, coulda"s. We can relax as all the energy it takes for our minds to worry about past regrets or tomorrow's concerns diminish into God's peace, a peace that is beyond our circumstances or problems or even human understanding.
Step 10 is the "maintenance step." The daily practice maintains your honesty and humility with yourself. You may want to ask yourself, "How am I doing?" Regularly, you need to take a time-out from the world's "rat race" long enough to ask yourself, "What am I thinking about?" The daily inventory about your thought life helps evaluate the good and the bad. When there is a need to admit wrongs, promptly admit them. This keeps your mind and actions clean and clear.
It has been over 30 years since these life circumstances occurred. The battle began in my mind and thought processes. My thoughts were the primary source for my problems that made my life miserable. Today, I have learned to consistently and regularly to review what I am thinking about. In my mind, I locate the source of the negativity to avoid confusion. There is great freedom in the daily inventory endeavor. Nevertheless, the only mind you can change is your own. Let me say it once more, the battle starts in your mind so, "Think about what you're thinking about!" This will change your life!
"Love Is A Battlefield" video: