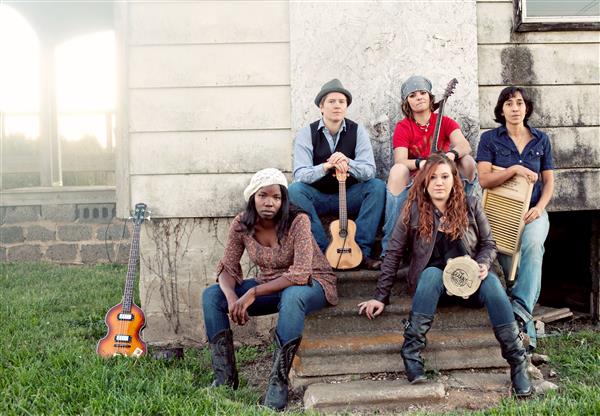 The Granny Whites are an up and coming musical act from Middle Tennessee, and they offer an overall great way to spend your evening. The band plays a mix of folk, rock, blues, jazz and nearly everything in between. "The Grannies" have been gaining a lot of momentum lately by rocking out a ton of shows, releasing their first EP and being in the rotation on Lightning 100 with their catchy tune "Easier."
The band originally came together in 2011 when JK Camardella and Daphne Culver met through a friend. Daphne was inspired by JK's musical passion and they instantly hit it off and began jamming all the time. It was not long after that the duo became an entire band as more talent came together. They added Daphne's former manager, drummer Jacki Macri,  a previous member of fairly successful punk band "Trampskirts." Murfreesboro's own Rometrius North was chosen to be their illustrious bass guitarist. This all came together at the weekly Writer's Night at Kimbro's Pickin' Parlor in Franklin where they played their first of many shows.
The band has added two new members since those early days. Anna Bethany Hogue was working as a bartender at Kimbro's, and the band saw what an amazing singer she was when she came onstage and sang a few songs with them. Adam Taylor was recently added as a lead guitarist and has been working with Daphne on her side project. Both Adam and Anna will have a much greater role in the band's forthcoming album, due out early 2014.
I have been acquainted with the band since their early days playing out in Franklin and it has been exciting to witness how they have developed over the last couple of years. The Grannies have really branched out since Kimbro's, playing at such venues as Exit/In, The Mercy Lounge, 12th & Porter, Lipstick Lounge, Mad Donna's, Murfreesboro's own 3 Brothers Deli as well as in Kentucky and Alabama. Recently, I had the opportunity to sit down with the amazingly talented Daphne Culver and Jacki Macri and talk to them about their music, success and what's coming next.
Murfreesboro Pulse: Your Facebook page lists James Brown, Johnny Cash and Aerosmith as influences. What other bands do you like, not necessarily who influenced you?
Jacki Macri: I like Fiona Apple a lot. I also really enjoy Neko Case, she's a great singer/songwriter [who's] into folky style with such a killer voice, a really strong, majestic and haunting voice. And also Aerosmith.
Daphne Culver: I'm a big fan of the Milk Carton Kids and old-school songwriters like John Prine.
MP: Did you always want to be a musician?
DC: I knew there was something that I was going to do with music ever since I was introduced to it. I knew that it would be a big part of my life, I just didn't know that I could make a living with it
JM: Had I known that I could make money with it, I would have probably gone to school for it.
MP: What is your favorite song on your first EP?
JM: There's a five-way tie: "Resurrection," "Always Waiting," "Can't Sleep," "New Door Locks" and "Easier."
DC: "Always Waiting."
MP: What was it like getting signed?
JM: It was a hard decision, a three-year-long commitment, and we hadn't even been together for three years. We had to really understand the commitment involved, some of our personal relationships even hadn't been three years long. When we were talking about it we used the terminology of dating a lot to put the commitment and what we were doing into perspective. We said: "We are going to be married for three years now, and we are going to do this!" But yeah, it was a hard decision and it took about a month to make. To meet with the label and negotiate, to meet with lawyers, there is a lot involved.
MP: Does the band have any particular goals?
JM: We're hoping to pump out a new album every year over the course of the next few years. We would also like to travel more than we have.
DC: I really want to hit the festival market and play things like Coachella, South by Southwest or even Bonnaroo.
MP: Is your music available anywhere online so that fans, or anyone could check it out?
DC: We are on Pandora, Spotify, CD Baby, iTunes and if they want to check out our Reverb Nation site, there are five songs that you can listen to for free to see if it's something that you're into (also available at thegrannywhites.com).
MP: What can you tell me about the new album?
Jacki: We decided about a month ago on what songs that we wanted to record. Since then, a lot of writing has been going on and we've been growing, with more time to practice. It will include: "Anything But This," which was the first song that we ever played live, but it didn't make the first album.
DC: [There is also] "The Desert Song," it's about figuring out why you're going and where you're going to, then finding a reason to carry on. Sometimes you get halfway through something but are so overwhelmed that you can't see the end.
MP: Daphne, you also have your own side project? Anything you could tell me about that?
DC: I've been using the name Daphnemaemusic; the project includes Jenn Palmer, who is one of the two singers in the Sugar Dames, and Adam Taylor, who was added to the Granny Whites about a week ago as lead guitarist. It's a lot lighter sound than The Granny Whites and deals with more emotional stuff. The music has more harmonics, is jazzier and contains more Spanish flair than my other music. We even used some flamenco guitar in a couple of the songs. (Check out facebook.com/DaphneandthesometimesbeardedAdam for more info.)
Be sure not to miss "The Granny Whites" performing live with "The Valley Roots" on Friday, Nov. 15 at The Boro Bar and Grill! Check out The Granny Whites on Reverbnation and at thegrannywhites.com.