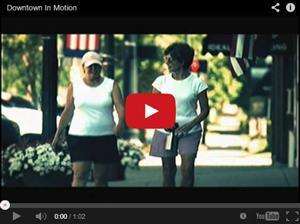 Each year, the time change throws our early morning and late afternoon routines into distress mode, resulting in little or no daylight time to run or walk. So, here's a reminder that outdoor exercise options are available. "Downtown in Motion," a health initiative of Murfreesboro Parks and Recreation aimed to fight Type 2 diabetes, provides measured walking routes/maps of the Downtown Square and Historic District. If you are having trouble fitting your walk in during daylight hours, consider walking downtown at lunch, prior to or after work.
Permanent signs (maps with measured routes) have been placed at two locations just off the Courthouse Square on the City Plaza, at the corner of West Vine and South Church, and on the Tennessee Department of Health property at the corner of East Burton and North Maple.
Maps are also viewable and available for printing here.
Another great, lighted option for running/walking is the Stones River Greenway – Gateway Trail, located just behind Murfreesboro Medical Center at 1272 Garrison Dr.
For more information contact Deborah Paschall at (615) 893-2141 or dpaschall@murfreesborotn.gov, or view the Downtown in Motion YouTube video: