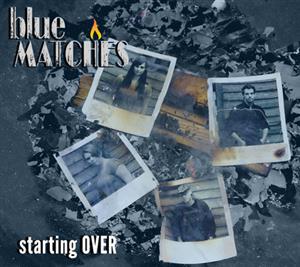 Nashville band Blue Matches' first album, Starting Over, is aptly named to reflect an embittered tale of a relationship or probably some amalgam of several. Guitarist, keyboardist and vocalist Steven Edwards, a former MTSU student, started the band years ago while in school, playing out of Murfreesboro before the group took a year-long hiatus and reformed with a new rhythm section in 2012.
Blue Matches are Michelle Marston on vocals, Edwards, Stephen Smith on bass and vocals, and Katey Perkins on drums and percussion. Edwards produced and recorded Starting Over, which dropped on Dec. 10, and wrote or co-wrote the majority of the album's 17 tracks.
Marston delivers each one with cold, blue vocals and ethereal feedback blustering through the opener, "How It All Began." Marston wrote "Tumbling" and "Tumbleweed," the latter a track that sounds clear, cold and beat up, framed by Laurel Blackman's violin and Josh Dent's cello as Marston sings, I wish this was the last time/But I know myself better than that/I can't do anything once/I'm always wanting more/Chased by my demons and my apathy/My addictions have made the best part of me/And now there's not much left of me/I'm feeling so unworthy of the woman I want to be.
The lead vocalist sounds like Exene Cervenka from X, like on "Down and Out," which has punkish, grizzly guitars blistering underneath a snarly but overtly feminine voice that also brings to mind Pat Benatar on occasion. There have been comparisons to The Distillers, which makes sense; so does a comparison of Courtney Love through Starting Over's playfully sinister pop style, or even some of the vehemence of Sonic Youth's Kim Gordon.
The album's lyrics are obsessively, wildly embittered and therefore also hopeless and defeated; see "Infatuation," "I Won't Surrender" or "Take It All," where male vocals cut in, overlapping with Marston's, evoking the feeling of an argument taking place. It's a well-produced, angry and atmospheric pop record that is rife with vows not to get fooled again and demands, albeit ad nauseum, plenty of relatable answers from an unnamed, presumably former lover.