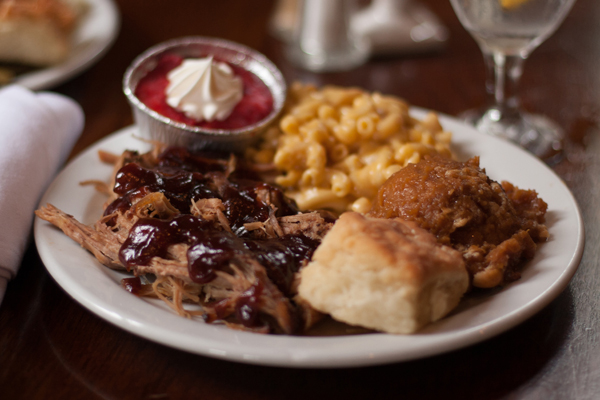 Sometimes you want a home-cooked dinner—some warm comfort food—and your cook of choice isn't around or you do not have the hours required to create a true dinner.
There are plenty of spots around Murfreesboro with folks fixin' up meats and veggies Southern-style, and while they may not be just like Grandma's, many of the places that consider mac and cheese a vegetable come pretty close and offer delicious, filling meals in a unique setting.
But some of these spots can be a little hard to find, as they are not always well-publicized, national-name-recognition, on-the-beaten-path kind of places.
So, the Pulse offers you a little roundup of some of the best local spots where you can get that traditional Southern food from local businesses with personality.
THE LEGEND
Kleer-Vu Lunchroom
226 S. Highland Ave.
Mon.-Thurs., 11 a.m.–6 p.m.; Fri. and Sat. 11 a.m.–8 p.m.
Meat and 3: $8
This cafeteria-style lunchroom at the corner of Highland and Vine seems to be the community favorite. Lawyers, professors, students and thugs alike line up each morning to get a tray full of delicious roast beef, ham, ribs, meatloaf, apples, green beans, turnip greens and more. Feeling adventurous? They have pigs' feet. Want dessert? Large pans of soupy peach cobbler await.

THE NEWCOMER
Jeff Sowell's Family Restaurant
467 S. Hancock St.
Mon.-Sat. 11 a.m.–6 p.m.; Sunday 11 a.m.–5 p.m.
Meat and 3: $7.30
Though it's not been around as long as some of the other traditional spots in the area, many in Murfreesboro say Jeff Sowell's Family Restaurant is equal to, if not better than, Kleer-Vu. They got your chicken and waffles, liver and onions and lasagna; excellent ribs, smoked right outside, are available, too. Their assortment of breads—hot water bread, flapjacks, yeast rolls, skillet bread, corn muffins and cracklin bread—is impressive, as are the fried catfish and chicken. Try some black-eyed peas, barbecue and some of the tremendous desserts. The 4-layer cakes are literally a foot tall. Jeff's is the real deal, home cooking with love.
THE SPOT ON THE SQUARE
City Cafe
113 E. Main St,.
Mon. 11 a.m.–3 p.m.; Fri.-Sat. 11 a.m.–9 p.m.
Meat and 3: $7.95
It has the reputation of being the spot where the old-timers kick back, talk politics and have their coffee, but City Cafe attracts a wide range of customers, and the classic diner has some very creative breakfast names. The Preacher's Breakfast, at $3.09, consists of "one egg, two pieces of bacon or one piece of sausage, biscuits or toast. If Sunday's offering wasn't that great, we'll cut you a break!" The First Responders' Breakfast, at $5.99, includes "three eggs, bacon or sausage, one hotcake. You'll be lucky to eat it all, before you get a call!" The Banker's Breakfast, at $7.29, gives you "three eggs, grilled or fried pork tenderloin, home fries, biscuits or toast. Fill up your tummy before you handle our money!" and more. So stop in the greasy spoon on Main for some giant pancakes or biscuits and gravy, or a meaty Murfreesboro omelet with ham, sausage, bacon, cheese, onions, peppers and tomatoes for breakfast. Lots of burgers, platters, sandwiches and salads are available for lunch as well.
UPSCALE ATMOSPHERE, DOWN HOME MENU
B. McNeel's
215 N. Church St.
Mon.–Fri. 11 a.m.–2 p.m.
Meat and 3: $8.25
B. McNeel's, inhabiting a beautifully renovated old home just off the Square, has transitioned from a steakhouse/dinner spot to more of a meat-and-3/lunch-style menu over recent years, but it has retained the elegant atmosphere and cloth napkins for a more refined business/professional crowd. The rotating menu features a variety of veggies, salads and meats each day. Fried cabbage, glazed carrots, and mac and cheese pair well with meatloaf, pot roast or fried chicken. And the outdoor patio provides a lovely, shaded spot for an outdoor lunch during the sunny season.
THE COUNTRY GROCERY
Miller's Grocery
7011 Main St., Christiana
Tues.–Sun.: 11 a.m.–2 p.m.; Fri.–Sat.: 5:30–9 p.m.
Meat and 2: $7.50
This old grocery store in the heart of Christiana, Tenn., cooks up the corn nuggets, okra and broccoli casserole for lunch alongside country BBQ ribs, fried pork chops, chicken and dressing, and more. The Miller's Famous Catfish comes highly recommended, as do the delicious cakes and pies. Offering live entertainment on weekend nights as well as more dishes such as frog legs, Miller's Grocery is a short drive from the 'Boro, but far enough to feel like you're in the country. They've now gone mobile too; look for the Miller's food truck around these parts.
THE BUFFET
Farmer's Family Restaurant
1958 Old Fort Pkwy.
Sun.–Thurs.: 7 a.m.–9 p.m.; Fri.–Sat.: 7 a.m.–10 p.m.
Supper buffet: $8.99–9.99
Buffets in general seem to emphasize quantity over quality, but step into the kitchen at Farmer's Family Restaurant and you will actually see fresh corn being shucked, beans gleaned from area farms, and hand-breaded chicken and catfish, not the canned and frozen ingredients one may expect. This all-you-can-eat establishment boasts a huge variety of dishes, from chicken to spaghetti to ribs and steaks, a salad bar and, of course, a mountain of desserts. Try some sweet potatoes cooked in pancake syrup and jalapeño cornbread to go with your catfish, tons of meats and veggies. Sample them all!
THE CHAIN
Cracker Barrel
138 Chaffin Pl.,
2115 S. Church St.
Sun.–Thurs.: 6 a.m.–10 p.m.; Fri.–Sat.: 6 a.m.–11 p.m.
Chicken and dumplins with 3 sides: $8.69
Though it doesn't have the personal feel of an independent eatery, plenty of folks from far and wide like to get their vittles at Cracker Barrel. There are hundreds of these dining rooms and general stores scattered about the country, all with a mess of kitschy antique items hung at careful diagonals, but the up side to the close corporate control is that the food is generally consistent. Get your pork chops, smoked sausage, hash brown casserole, and chicken and dumplins by the fireplace and hang around after the meal for a game a checkers or a rock on the porch.
Cafe on the River
Stones River Grill
1443 N.W. Broad St.
Mon-Fri: 6 a.m.–3 p.m.; Sat 6 a.m.–2 p.m.
The white building on Broad has seen numerous restaurant operators over the years, but Stones River Grill still keeps 'em coming in for lunch.
WHAT DID I MISS?
Let the Pulse know whatcha like and where's good.