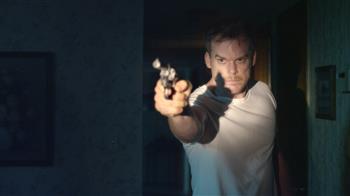 Fresh from his run of the Showtime hit series Dexter, Michael C. Hall returns to the big screen in the adaptation of Cold in July. Also starring Vinessa Shaw, Don Johnson and Sam Shepard, Cold in July follows the story of Richard Dane, a man in Texas who kills a burglar after a late-night intrusion. After the story goes public, Dane finds the burglar's vengeful father eyeing his family as a means to get even. Little do the men know that they're actually a part of something much more sinister, promising a tale as sweaty and merciless as the Texas desert. . . .
The film, a selection of the 2014 Sundance Film Festival, is based on the crime novel Cold in July, written by award-winning author Joe R. Lansdale.
"It's more than a little exciting to see Cold in July hit the screen," Lansdale shares with the Murfreesboro Pulse. "It is a nice complement to the novel, and I feel it's very true to the source, which, of course makes me happy. It has been optioned for many years, but has just now managed to be filmed. I'm really excited to have it directed by Jim Mickle, an up-and-coming director who has received a lot of positive attention and recognition for his previous films, most recently among them, We Are What We Are. It was equally satisfying that the script by Nick Damici and Jim Mickle is, as I said, very true to the novel. When I was first approached by them to make the film, I hit it off with them immediately. I was not only impressed with them personally, but they really knew my work and were dedicated to making Cold in July into a feature."
Lansdale's biggest contribution to the film, however, may be the passing of a torch. Country music artist Kasey Lansdale, whose debut album Restless was produced by John Carter Cash, is featured on the film's soundtrack.
"What was even more exciting for me as a dad was to find out my daughter's music would also be featured in the film, songs she wrote and sings. I'm really proud of her. She's been building a solid career for a few years now, and this is a nice addition to all her hard work and achievements as a singer, writer and anthology editor," the author says of his daughter, Kasey.
Kasey Lansdale, a resident of both Nashville and Nacogdoches, Texas, serves as an excellent example of how the talent of Nashville can provide a project with international appeal. Kasey's following has already grown throughout Italy, and her star is steadily rising in the Nashville area.
To track Kasey Lansdale and Cold in July as it tours the film festival circuit, be sure to check out Cold in July and Kasey Lansdale on Facebook.