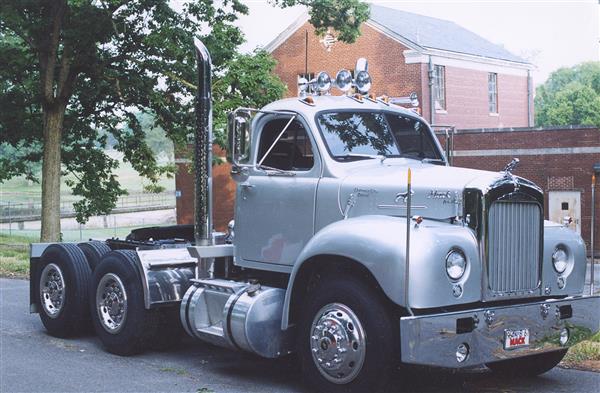 In which I introduce one of the original owners to his freshly restored ride
By Dale Hamilton & Tom Bianconi
Dale: In the course of fitting out my boat building shop in anticipation of retirement, I came to the realization that I needed a big truck. Naturally, the sensible thing to do would have been to go out and buy a used Freightliner, but that wouldn't have been the cowboy way. So, I eventually tracked down and purchased a Mack B-67 live axle tandem tractor with the 673 turbo charged motor. If any antique truck could be regarded as truly an icon of the American highway, this was it. For two years it sat behind the shop intimidating me, as I had never tackled anything on this scale. Finally increasing pressure from my buddies caused me to roll it into the shop and start on a full-scale restoration/improvement project, which would allow upgrades to modern-day technology and creature comforts. This was not to be just another restored dinosaur.
A 673 Mack Thermodyne had replaced the original 711 motor sometime in its life, and as it had excellent compression, I decided I would not need to open the engine.
The old duplex transmission—truly an iron-clad coelacanth—had to go. It was swapped for a 15-speed triplex which gave me an honest 70-mph road speed at 2100 rpm.
The tin work, however, was another story. I could handle the front end sheet metal, the fenders and doors, but the cab would have to go to Terry Stegal, the Doctor of Sheet-Metal Science, the Wizard of Welding, who eventually would have to fabricate 40 percent of the cab from new steel. The day came when a back hoe showed up at the shop door with some half-dozen usual suspects who would help lift off the cab. Just four bolts plus two more at the radiator hold down this bubble cab to doughnut-sized rubber pads on the frame. We passed a chain through the door openings and around the bucket and started the lift. This process was gut-wrenching to witness, Years of accumulated rust, corruption and various detritus fell from the cab as it pulled away. Among that, a small slip of yellowed paper fluttered to the shop floor. It turned out to be a 1974 registration slip, bearing the name Tom Bianconi, Stateline Transit, Nashville, Tennessee. Hmm . . .
Tom: I received a phone call from a rather articulate sounding fellow who claimed to have just purchased my old B Model. I had called it The Ugly Puppy when I drove it, ugly because it was painted orange and white and puppy because it was a Mack. A good name for an odd truck.
It seemed reasonable to be leery of some stranger who calls out of the blue and tells you that they are happy to have purchased a 40-year-old truck and are going to refurbish it. Sounded like a guy that needs a job! However, Dale was very polite and again impressed me with his easy style and common sense approach to the task at hand. I was glad that my old truck was out of the weeds and at least in a dry shop. Ugly was a tried and true friend, a real honest hard-working companion of countless hours in pitch-dark night. He was my tether line to the world. He never let me down. He deserved a better place for his final days.
Months passed and not a word from this guy in Murfreesboro. Then one day the phone rings and it is Dale again. He now tells me that he is near completion and would like for me to see the "new" old truck. I was almost speechless as he tells me of the many things he has changed. I know now that I must go see my old friend, ugly, and meet his guy, Dale.
Dale: With the engine fully exposed, I undertook the grafting on of modern technology. The old Luber-finer was scrapped in favor of spin-on filters. The fuel filters were also discarded, replaced by spin-ons mounted outboard of the frame rail just in front of and behind the right side wheel. I fabricated a multipurpose bracket from 3/8ths steel, reaching from the timing case cover to the valve cover in front of the engine. This would hold the AC compressor, the power steering pump, and the alternator replacing the generator. A new starter was also added. The old injectors were literally pried from the head and along with the turbocharger, sent to the diesel shop for a rebuild. Eventually I would take the completed truck to this same shop so the fuel pump could be built. Curiously, the diesel guy found his original seals and cartouche still in place from 25 years ago.
The old Mack's ride was improved by the addition of air bags from Load Air supporting the front axle springs. A Garrison power steering system was added at this time. The original square steel fuel tanks were scrapped, replaced with round polished aluminum tanks. All fuel lines were replaced as well. In stripping out the fuel system, I noticed the original steel fuel pedal was worn nearly in half; in fact, someone along the way had riveted a piece of plywood to the pedal to keep this from happening. This had to be a high miles truck.
The chassis was cleaned and painted and all new Syntex air lines replaced the original copper. New brake drums, slack adjusters, maxi chambers and all inline valves and connectors were replaced as well. The original split ring wheels were replaced, new rubber and polished stainless Eagle Flight wheel simulators completed the road wheels.
A quantum leap in rideability was achieved by cutting down the rear spring stacks. Mack used 3 full-length leaf springs and 6 steel stiffeners on each rear tandem. I cut the ends of all 6 stiffeners, leaving only their middles pinned under the U-bolts- so the chassis height would not be altered. This modification—while limiting the absolute tongue weights- allowed the 3 remaining springs to actually work and deliver a very comfortable ride.
Tom: I bought Ugly from West Tennessee Motor Express in the mid-'70s while I was still in school at the University of Tennessee in Knoxville. I leased it to an intrastate trucking company, Robertson Motor Line, whose home office was also in Knoxville. My run was to leave Knoxville every evening around 7 p.m. and go to Chattanooga, then Nashville, before returning to Knoxville. The turn took most of the night and it was not unusual to show up late for my first class arriving in Ugly and smelling of diesel fuel. This run was especially frightening for a young trucker because it meant that I had to cross Monteagle Mountain every night. This mountain had taken many a trucker to their final resting place and the CB stories made me a believer. But Ugly, my old buddy, taught the kid how to do it right.
B-Models were workhorses in every sense of the term. They could out-pull and outlast any other truck on the road. "Tough as they come." They were not, however, built for the comfort of the driver. The floor had holes in it where the clutch and throttle linkage went to the engine. This would let in more cold air than you can imagine. If you stuffed enough rags in the hole to stop the air you couldn't push in the clutch. Boy, we were cold in the winter. The summer was not any better because part of the engine compartment was in the cab with you. The "dog house" was not insulated and all of the heat was within inches of your right foot and shifting hand. I soon learned why someone had mounted a little fan on the dash.
Ugly and I delivered LTL freight for some time and then after my academic career was over, followed me to my own trucking company. Although I did not regularly drive him, sometimes he and I would sneak off by ourselves and spend some quality time.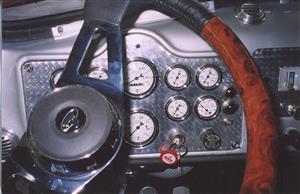 Dale: By the time the cab was returned I was ready to paint. Everything was given a good layer of high-build primer and finished with base-coat/clear coat in astral silver pearl. But before reassembly, I insulated the whole truck with marine-grade lead foam from Soundown Inc. The firewall received 1½"outboard and 1" inboard. The rest of the cab, floors, doors, roof received 1" material. This is a layer of 2-lb. lead sheet, surrounded by acoustic foam and topped by silver Mylar. The idea is for the lead to absorb and deaden the sound vibrations and reflect the heat. I gave special attention to the cab floor just over the 6" exhaust, which was bound to get real hot. Here I bonded ceramic floor tile to the sheet metal; if they use ceramic tile on the space shuttle to shield from heat, why not here, too?
The cab was reunited to the frame, new smoked glass was installed all around, and a complete new wiring system added. This last was based on a Painless breaker box with integral firewall interlock and pre-wired with the labeled, correctly sized wires. New SW Wings series gauges were added to an engine-turned dash panel insert. Engine turned stainless also highlighted other parts of the cab. Power windows were installed, and a beautiful rosewood and stainless steering wheel added. The entire cab was upholstered in gray tweed, as were the GM Astro van seats mounted on Bostrom seat bases.
Finally, the most fulfilling stage arrived—bolting on the shiny stuff. A new chrome Texas-style bumper, a train horn for the roof, chrome Vortox wheels, two 6" monster stacks, light bars for the rear, and some Billit items for the cab. The mudflap weights proclaimed, "HI YO SILVER."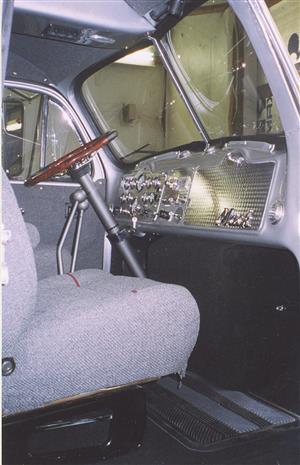 Tom: Dale and I agreed to meet on a Saturday for the "showing" of the new and revitalized Ugly. I was actually a little nervous. After all, it had been almost 10 years since I had last seen Ugly. Would he remember me? Would he feel the same? Had all the character been taken from him by this guy named Dale?
I arrived at Dale's shop fully expecting to find some toothless redneck with grease in places we can't discuss and a truck with maybe new paint and some rust covered up. Boy, was I ever in for a surprise.
Dale met me in front of the shop clean, neat and well groomed. He did not smell of old brake fluid or reek of body odor. A gentleman of knowledge worthy to be with Ugly, I thought. We talked for some time and I began to feel more at ease. Dale then asked me to stand in a very specific place in front of the double doors of his shop while he went inside. "What on earth for?" I wondered, but I complied. I then heard the music "Dawn" from Thus Spoke Zarathustra; I had goosebumps. The doors slowly opened and before me was my Ugly, smiling and proud as any good friend could ever be. He was not just clean and fresh, he was modern. The latest in electronics, the most up-to-date brakes, power steering, air conditioning, power windows, and state-of-the-art insulation for the cab, my friend was now young again.
I walked around him with awe and amazement as Dale told me of all the things that had been done. I could not believe my eyes. Then it happened. Dale asked me if I wanted to drive him. What an honor. I had never driven a "new" Ugly.
We got in and I started the engine. It sounded just as I remembered but not as noisy. Much tighter and quieter—"That insulation really makes a difference," I thought. I put it in first gear and eased out of the shop. I could feel Ugly getting excited like a race horse ready for the run. My shifting was rusty but Ugly is forgiving, and by fourth gear we were doing fine. What a wonderful truck. Ugly was smooth, quiet, powerful and, best of all, back in service. Friendships like this never die—they just grab another gear and keep going.
As I was getting ready to leave, Dale said he had something for me. I wondered what. He then presented me with Ugly's old fuel pedal, mounted on a plaque inscribed with Unit 40 and my name. I almost cried. The pedal is now proudly displayed in my office—a wonderful conversation piece for those kids who have not yet found their "Ugly." Thank you, Dale, for making my friend new again. I know he will serve you well.
HI YO SILVER – away . . .