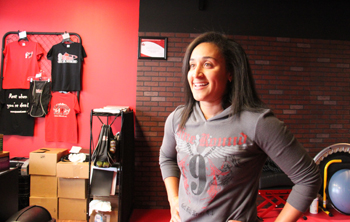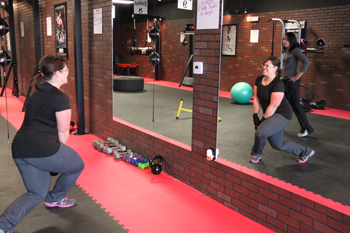 A concept gaining traction in various communities across the country has made its way to a New Salem Highway shopping center and is primed and ready to kick area residents in the butt, so to speak.
9Round offers a fun but demanding approach to fitness, as participants work with a trainer to pack 9 different exercises into a 30-minute flurry of fury and sweat.
9Round Murfreesboro owner and trainer Ashley Gates leads members through these 3-minute-long rounds to achieve a full-body workout in 30 minutes. There are no class times. Rather, a 3-minute clock runs continuously through the day, and members can jump in and begin working their way through the stations when they're ready.
"You come in whenever fits your schedule; and there's a trainer out on the floor with you at all times," Gates said.
"We're working on those trouble spots for women, the inner thighs," she continued as her trainee, Mitzi Quiles, shifted from side to side with a kettlebell at station no. 2 during a recent workout.
Quiles has already jumped rope for 3 minutes at station 1. With 7 stations to go, she has only just begun the 30 intense minutes but is already working hard.
"My legs are shaking already," she said, moving onto round 3, where she'll get to take out some frustration on a punching bag.
The workout changes daily, so the rounds aren't always exactly the same, Gates said.
But no matter what, "You never stop moving the whole time you're here," she said.
The half-hour is jam-packed with squats, jumping, punching, kicking, running and situps—30 minutes of movement.
"It's interval training," Gates said. "Shooting that heart rate up, then bringing it down.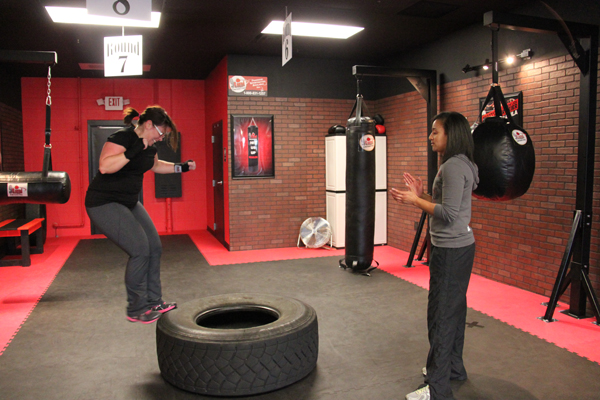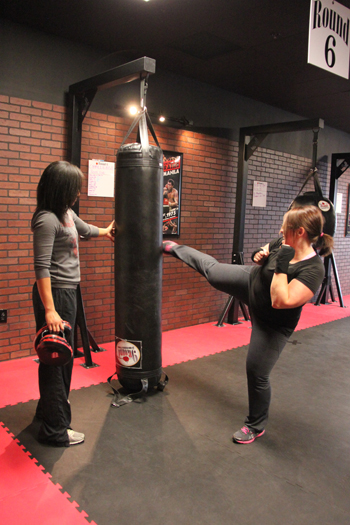 "We're doing aerobic, strength and anaerobic, that's where it's at."
Anaerobic exercises require intense bursts of activity in short durations.
Another plus to the 9Round circuit method is that the up-tempo workout, hitting lots of muscle groups, can benefit anyone of any fitness level.
"Beginners, intermediates, advanced, anyone can do it," Gates said.
Everyone can go at their own intensity level, and push themselves a little more each time, but the main thing is to keep on moving.
Currently, 9Round's membership is about 70 percent women, Gates said, "but men get a great workout."
Men perhaps tend to gravitate towards mixed martial arts, karate and other contact sports if they are punching and kicking, but Gates emphasizes 9Round is a no-contact activity.
"It's more about fitness and seeing how your body works here," Gates said.
"I did some amateur boxing; I didn't like being hit," she continued. "It's a great sport, but not for me," Gates said, as the ever-ticking 3-minute timer goes off once again to signal a round change for participants.
9Round is a rapidly growing fitness franchise, now with locations in 33 states.
"It's just 30 minutes; I keep telling myself that," Quiles said, appearing drained but confident after her workout. "Just 30 minutes of my day. I love it."
"I've never hit a punching bag (prior to joining 9Round), but I'll be driving down the road now and I'll think, 'I just want to hit a bag,'" she said.
Find 9roundmurfreesboro on Facebook and for more information on the network of 9Round fitness centers opening across the country, including the one in Murfreesboro, visit 9round.com. 9Round is located at 2658 New Salem Hwy.; ask about their $20 enrollment discount throughout January.