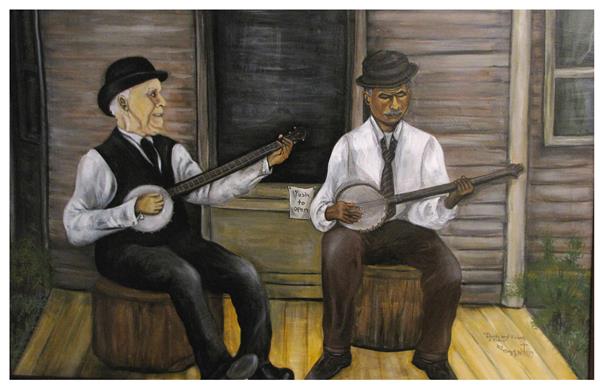 Working alongside local businesses, the MTSU Department of Art through Todd Art Gallery has collaborated with Rutherford County Property Assessor Rob Mitchell to create a new community art gallery named for Murfreesboro's inaugural family. With plans to feature ongoing exhibits, the recently opened Murfree Gallery is located in the lobby and antechamber of the Property Assessor's office, on the second floor of the Rutherford County Office Building. "Rutherford County has a rich cultural history," said Mitchell. "I can think of no better way to celebrate it than through a partnership with Tennessee's finest university, Middle Tennessee State University. I believe we should strive to make better use of our public buildings for the benefit of our community. Hopefully." said Mitchell, "this will be just one small step towards that goal."
The gallery's first exhibit, scheduled through Jan. 30, includes students from the MTSU Department of Art and several noteworthy community artists, including John Smith, Bobbie Bittner, Jack Freeman, Suzanne LeBeau, Pamela Mack, Carol Moloterno and Mary Watkins. The work being presented by MTSU art students was selected through the efforts of art major Amber Lelli. Those works represent a snapshot in time for the fall 2013 semester. Lelli, chief curator of the Student Gallery Committee, and Eric Snyder, from the Todd Art Gallery, teamed to bring together some of the best work available from the department's areas of graphic design and studio art. Participating students include Brian Bailey, Davion Baxter, Felicia Cannon, Carissa Gay, Lindsey Isbell, Nick Murphy, Josh Petty, Whitney Proper, Acacia Richey, Morgan Rotenberry and Starling Sensing.
"The benefit that the Murfree Gallery brings to MTSU and the Department of Art," said Snyder, "is the expressed interconnectedness and benefits that exist between the university and our surrounding municipalities and county. For our students this collaboration offers opportunity for real-world experience, particularly in the area of the growing trend of public facilities functioning as art spaces and limited public forums. For these MTSU students and those to follow," said Snyder, "this type of opportunity is invaluable."
With the generous assistance of L&K Trophy House, Lowe's and Middle Tennessee Reprographics, Mitchell covered all gallery conversion costs out of his own pocket.
The Rutherford County Building is located at 319 N. Maple St. For more information on the gallery, visit rutherfordcountytn.gov.