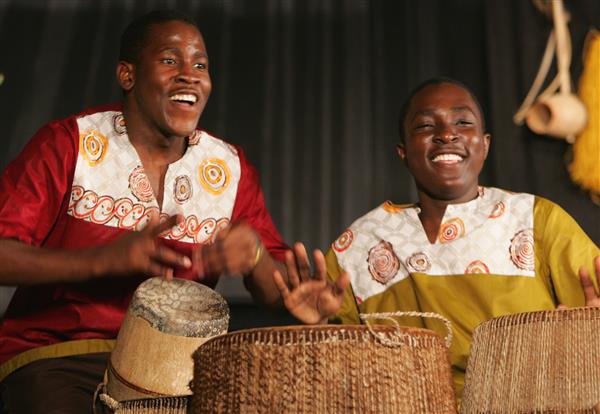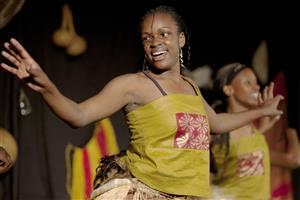 Through music and dance, the Young Africans brought their native culture to Murfreesboro's Journey Pointe Church on Dec. 20.
A group of singers, dancers and musicians, Young Africans are the now twenty-something former performers of the African Children's Choir of Music for Life. Music For Life is a Christian humanitarian relief organization founded by activist Ray Barnett in the 1980s and dedicated to educating and improving the lives of African youth. The choir recruits children from impoverished African families to get an education, tour the world and return to help their families.
Starting in October, the Young Africans began their second tour of the states and will perform in Kentucky, Indiana, Tennessee, Arkansas, Alabama, Mississippi, Ohio and Ontario before the tour ends in February. Their concerts are free and open to the public, though donations are collected, which go toward education, care and relief programs.
"This is our second Young Africans choir," said tour leader Robbie Luninze. "We did a five-month tour with them last year. So many wondered what happened to the [children's choir] when they go back home. Where have they been? Do they go home and study?" This tour, explained Luninze, "was to show the world and the supporters who stood by MFL that yes, they go back home, study and we bring them back in their teens and early twenties. It's living testimony that MFL does what it says. They're still pursuing their dreams."
Music for Life has educated more than 52,000 children and improved the lives of more than 100,000 individuals through its programs. MFL works with the African countries of Uganda, Kenya, Rwanda, Sudan, Nigeria, Ghana and South Africa.
"Our goal and mission is to help them, so they can help Africa tomorrow. We provide education in their home countries, so they can become the changemakers," said Luninze, who has been with the Children's Choir for just over 18 years. He has spent the past five touring with the Young Africans group of Ugandans and Kenyans now performing in North America. He joined the choir at the age of 8, through which he received an education and graduated in 2010 with a business degree.
"It helped me turn my life around from once being one of the poorest, least advantaged children in Africa to be who I am today," said Luninze, who comes from a family of seven. "My mother would not have been able to care for all of us. It was hard to find a meal a day before I joined the choir," he said. "I lived in a hopeless situation. The choir came to my rescue and offered me this opportunity."
Music For Life affiliates visit African countries to recruit kids who, according to Luninze, "absolutely need help, and otherwise might not be able to make it." To join Young Africans, former choir members go through a musical audition to get back on the road. Luninze said his own experiences with MFL and the choir changed him. "I saw things differently. I found out there are people in life that care. It really helped me become the man I am today. It's far bigger than the education; it's a life-enriching experience spiritually, emotionally, physically."
Luninze said some former choir members go on to become teachers in schools supported by MFL, lawyers, engineers and doctors in the communities from which they came.
"The only person we haven't had is a president yet," Luninze laughed. "After they tour, the parents look at them as hope for their families, as liberators. One day they will help them get out of this poverty."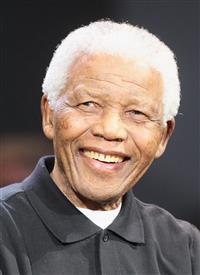 On Nelson Mandela:
"The death of Nelson was a big blow to Music For Life, to the choir, to Africa in general. We lost a great leader. We lost a grandfather for Africa. Young Africans strive to have such integrity and honesty as they grow up. Nelson Mandela was a role model to everybody. We want our Young Africans to walk in those footsteps, live a life of integrity, and promise to help others. Sacrifice your personal pleasure for the sake of others. He left a good legacy. We encourage ourselves and our children to look up to him."