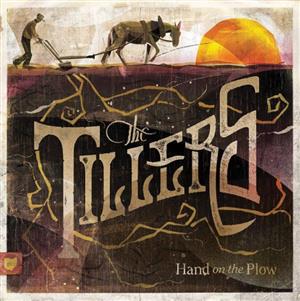 The Cincinnati bluegrass/folk trio The Tillers have their connection to the region through the Muddy Roots record label, which released the LP Hand on the Plow back in July. Preceded by 2008′s Ludlow Street Rag, 2010′s By the Signs, 2011′s Wild Hog in the Woods and 2012′s Live from the Historic Southgate House, Hand on the Plow could be called neo-old-time music, antithetical but true in the sense that it's a mix of love and travel songs from a different era sung for the sake of storytelling and reverence for their influences, along with contemporary tunes personalized with the group's own trials, tribulations and musings.
The group is Michael Oberst, Sean Geil and more recently, Sean's brother Aaron Geil replacing Jason Soudrette on upright bass in 2010. Michael plays kazoo and fiddle in addition to trading off on vocals and banjo—which is never harsh and plucky; it's liquid, loose and understatedly restless—with Sean, who brings a mandolin and a Dobro into the mix. The album is powerfully sad, uncomfortably tender, flawlessly perfunctory in its execution, resolute and sonically uplifting, and vocals can be steady and sustaining, or resonant like they're ricocheting around inside a tin can, as on the opening romp, "Old West Side":
The factory is spewing by the dirty riverside
Where trains belt out a midnight song and coyotes they cry
For their own to be returning and it ain't much to you
The wheels they keep on turning
Still I'm thinking about you.
The track immediately creates a sense of distance that carries throughout the record; there's a feeling of unrest, a feeling of a season turning, always wistful, a little unsettled and a little too far from home, like on "Long Summer Day" or even the over-told and hokey but tragic story of lovers' separation and untimely loss on "Willy Dear." The devil comes in to dance on "I Gotta Move," and banjo sweeps in sync with a fiddle that's jazzy, swampy, dark and agitated—very much in Legendary Shack Shakers style. "Can't Be True" is a beautiful gem; the raucous "Treehouse" sounds like it was recorded in someone's kitchen during an impromptu jam session, and the feedback and faraway sound create a definitive aesthetic.
Hand on the Plow wavers between the exquisitely macabre, drawing heavily on the Legendary Shack Shakers (with whom The Tillers have shared the stage, along with everyone from Carolina Chocolate Drops and Doc Watson) and tenderly downcast.