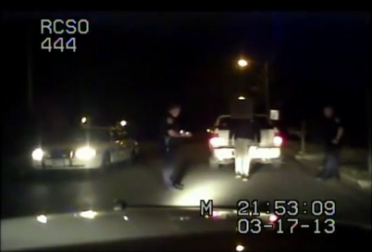 Perhaps the most frustrating thing about the legal system is how susceptible it can be to interpretation. Despite being constructed of strict language many would find intimidating and at times inaccessible, the law must also be left open so that certain personnel within the legal system can determine whether situations in question are within the acceptable confines of society. Life, to many, is a gray-shaded phenomenon that many people try to shove into black-and-white judgments. And when social critics allow for the fallibility of those in authority, sometimes what we're told to be the truth is really nothing more than opinion at best.
Facing several past allegations of corruption, including a viral video that put Rutherford County on the map for less-than-favorable reasons, the Rutherford County Sheriff's Office has had yet another video surface that calls into question its practices. Below is the feed from the dashboard camera of an officer who appears to be Rutherford County Sheriff's Officer A.J. Ross, whom many remember from the 4th of July DUI checkpoint video.
The description of the video reads as follows:
"In this video obtained exclusively by Rutherford Beacon on 1/22/14, Rutherford County (TN) Sheriff's Deputy A.J. Ross initiates a traffic stop on 3/17/13 in Murfreesboro, Tennessee. Ross is well known for his combative behavior when interacting with the public; a video recorded on July 4, 2013 shows him yelling and screaming at an innocent motorist at a checkpoint. Ross was previously fired from RCSO after getting into a crash off-duty, and lying to responding officers about having insurance. Ross was re-hired under current Sheriff Robert Arnold.
In the video, Ross' tone of voice is aggressive with the driver, who appears to be of college age. Ross talks over the driver and accuses him of being intoxicated, which he disputes. Ross performs a lengthy horizontal gaze nystagmus test on the driver, which suggests he was struggling to find signs of impairment. The driver spoke clearly and was not slurring his words.
While Ross continues to talk down to and berate the driver, he orders the driver to perform a field sobriety test. During all portions of the test, the driver is steady on his feet and appears to easily pass all tests. Nonetheless, Ross places the driver under arrest for Driving Under the Influence.
It is worth acknowledging that the driver did not immediately come to a stop because he wanted to be within view of his house, presumably so that he would have witnesses. This is a common tactic of those concerned about widespread police abuse; it was clear the driver had no intent to flee. Rutherford Beacon is working to verify if the driver was convicted of DUI.
(Rutherford Beacon is a coalition of citizens working to expose abusive law enforcement tactics and government corruption in Rutherford County, Tennessee.) "
Upon watching the video, it is clear that there are details that aren't answered. Aside from the removed identity of the stopped driver, it's tough to truly judge whether or not the driver was in fact driving under the influence. What is clear, however, is that the officer seems to be rude on a level that is not only needless, but potentially intimidating. Being pulled over by an officer of the law is stressful enough, so what happens when an officer's attitude goes from firm and professional to unnecessarily confrontational, hinging on bullying? This kind of activity can not only appear as a blemish on the whole department and lower the overall trust of the community, but creates a "level of question" about the specific case or cases in which the officer, and his aggressive behavior, are involved.
What's more important,  if the driver in the video is was in fact too scared to perform the field sobriety to the best of his ability, a potentially innocent driver has failed the test because of circumstances beyond his control, which could cause irreparable damage.
What are your thoughts on the video? Join the discussion and comment below.