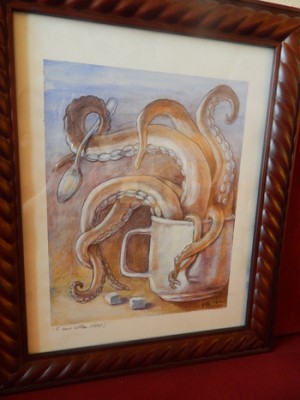 Paintings from Blond Iguana Art are for sale at JoZoara Coffee Shop in Murfreesboro this month
Artist Patti Mann said to be on the lookout for a few "tentacle-y things."
"This was my first time hanging my art in a public space, myself, with strangers around, and I have to say it's quite stressful and vulnerable-making to put one's work out into the jaded public eye," Mann said.
"I very much appreciated those who came forward and told me how much they loved my work, thank you thank you thank you," she continued on her blog.
Additionally, the artist said she will donate 10 percent of the sale proceeds to benefit Jenna's Cause for Paws, "a local cat and dog rescue that does great work in rescuing and rehoming abandoned pets."
For more information on Mann's art, visit blondeiguanaart.com.