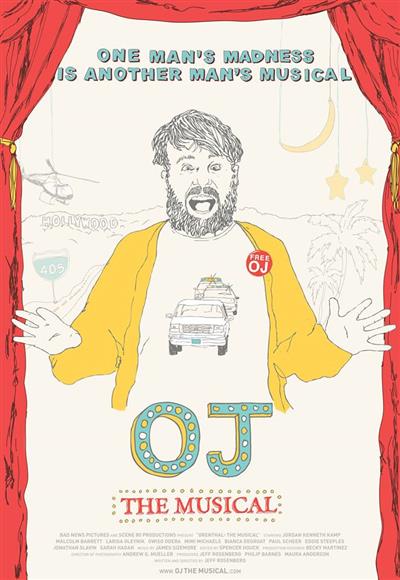 OJ: The Musical
Jeff Rosenberg
Murfreesboro Pulse: How would you describe your film?
Rosenberg: OJ: The Musical is a mockumentary about an eccentric theater artist struggling to stage an OJ Simpson musical with the help of his childhood friends.
What challenges did you/your crew encounter while making the movie?
Since the film was made on a shoestring budget built from kickstarter and my tax refund, the entire production was technically a challenge. That said, the entire cast/crew was composed of personal friends and it really forced us to be creative and work together as a team to get it made.
How long have you been working in motion pictures?
Two days after moving to LA in 2006, I lucked into a job as a PA on the set of the seminal bird flu miniseries from The Hallmark Channel Pandemic, starring Faye Dunaway, Tiffani Thiessen and Eric Roberts. I haven't looked back ever since.
In the process of film-making, how much of the creativity is found in production? How much improvisation do you find on set?
Most people are surprised to hear this, but our movie was very much scripted. While I certainly am open to discoveries on set and some of the best stuff in the movie was found on the day, the idea of doing something that is fully improvised scares the crap out of me.
What attracted you to the medium of film?
When I was 8 years old I saw a screening of Mr. Smith Goes to Washington at summer camp. While the rest of the kids snuck out halfway through after getting their popcorn and soda, I was mesmerized. My camp counselor told me afterwards that if I liked the film so much, I should make movies when I grow up, so that's all I've ever wanted to do.
What would you say of the place motion pictures have in our culture?
I think the idea of going to the movies as a form of escape will always be part of our culture. While it's certainly changing with new technology and the advent of shorter media online, I believe there will always be a place for movies. Eventually though I expect it to take on more of the feeling of a theatrical event, which is fine by me.
What makes a great movie? What elements do you think an audience should look to appreciate?
For me, a great movie is one that achieves exactly what it sets out to achieve. That can happen for $100 or $100 million, just as long as the story is properly told. After that, it really just comes down to personal taste.
If you could change one thing about the process, what would it be?
I would make sure that every film set has a Hawaiian Ice cart on set two hours after lunch because that would be awesome!
How did you learn your craft?
As a writer, I majored in playwriting with a minor in film at Ohio University. As a filmmaker, I watched tons of movies and spent 6-plus years working on sets as an assistant director. As a producer, I still have no idea what I'm doing but I ask a lot of questions and send lots of emails.
What themes do you like to explore in film?
I try to figure that out for each project individually, but generally speaking I like rooting for the underdog.
What inspires/influences you?
Mostly filmmakers who continue to change/evolve with every project. People like David O. Russell and Rob Reiner, who never make the same movie twice.
Are there any particular genres you favor over others?
Not at all. My 3 favorite movies of the last few years are Her, The Avengers and Toy Story 3, so I'm all over the map.
In terms of motion picture production, what would you like to see from the state of Tennessee? What advantages does the state currently have, and how do you think it could improve?
To be honest, I don't know too much about Tennesee film but I've heard great things about the festival and love going to Bonnaroo.
On what projects are you currently working?
I'm about to AD a film for Paramount that will last a few months and after that's done, I'm gonna focus on getting my next feature made.
What advice do you have to aspiring filmmakers?
Just make something! With today's technology, there is literally no excuse so just grab your phone and shoot something. It'll probably suck, so once you realize that, immediately go shoot something else and then never stop!
What do you see for the future of storytelling through motion pictures?
I think budgets will continue to get smaller, while stories will become increasingly specific and more easily targeted to their audiences through VOD.