Photos by Don Mitchell
Winter is almost over. Finally. Motorcycle enthusiasts know this better than anyone. As the days get longer and the sun gets a little stronger, look for the packs of two-wheeled iron horses to travel the Tennessee roads en masse.
Also, to celebrate the "Spring Thaw," Middle Tennessee Expo Center will host a celebration of all things motorcycle, complete with various competitions and killer prizes on Saturday, April 5.
The Pulse caught up with event organizer Tommy "Scooter" Williams of Both Barrels Promotions to get the lowdown on this year's show, which had been put together in Shelbyville for the past eight years.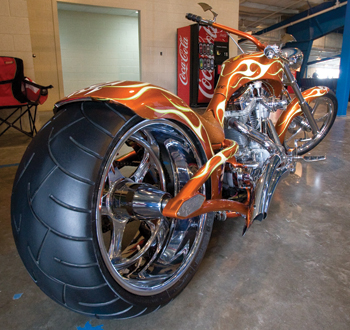 Murfreesboro Pulse: Why did you decide to bring the show back to the 'Boro?
Scooter: We decided to bring the show back to Murfreesboro because this is our home. We actually started the show in Smyrna 12 years ago at the TN Expo center in the old Walmart. When it closed pretty much without notice we had to scramble to find a new venue, but there was nothing available in Murfreesboro so we ended up in Shelbyville at the Calsonic arena. We were in Smyrna four years and have been in Shelbyville since. The Calsonic is a great venue and the folks are super, but we felt it was time to bring the show home, and with the opening of the Swanson's Mid-TN Expo Center at 1209 Park Avenue we saw the opportunity to make the move and get the show more centrally located again. We have been doing our Tennessee Motorama at the facility for the past three years and the building is perfect for what we do.
What are the judges looking for as they judge the contests?
Judging a show is tough; the judges have to leave what they like in a bike out of the equation and focus on things like craftmanship and the fine details. Such as is basically stock classes where things are pretty much similar in the bikes, it's little things that add points-did the owner clean behind the battery, did they not overdo on accessories but still make the bike their own. The original bikes and custom built bikes are way tougher to judge and are two separate beasts. Custom motorcycles are rolling works of art, and art is so interpretive, but this art has to perform. On the custom bikes we generally look for some main points, and our No. 1 in any class is functionality: is the bike ride-able. Doesn't mean it's comfortable, but is it capable of going down the road on it's own power. We had a guy one year get upset because his bike took 3rd out of three- the bike didn't have a chain so it wasn't functional, even though it was a killer job and he just ran out of time to get it to the show; it didn't function. Restored bikes are tricky, but we take a little more time on those to check for originality. The whole thing is, if you're not having fun and are getting too wrapped up in whether you are getting a trophy, we think you're doing something wrong! We want folks to have fun with it, enjoy the camaraderie and RIDE your bike.
Have you seen a pretty diverse crowd of motorcycle enthusiasts at past shows?
I have been around bikes all my life, and I have always said that the bike community is the best of any group there is. At our show you will see outlaw bikers mingling with Christian motorcycle groups; they genuinely care for each other and look forward to spending time talking about motorcycles and what rides they have been going on. I know doctors, lawyers, school teachers and mechanics that ride. Two wheels are a big bond to folks who may not otherwise interact.
Is there one bike after all of the years that sticks out in your mind?
For me personally it's almost always a hand built custom that catches my eye. I really like the creativity and hard work and soul people put into them, and I especially admire the ones that build them then thrash the hell out of 'em riding them. I get a kick out of seeing awesome paint jobs with rock chips in them; build them and use 'em. We've had so many awesome bikes at the show, I'd hate to pick one in particular. The antiques really get me too. We've had bikes that were built on those TV shows, bikes that were featured in tons of magazines, some before and some after appearing at our show . . . so no, I can't pick just one, there's always several every show that I would take home if I could!
Best of Show bike wins $1,000. We will be giving away a 1974 Honda CB350 Cafe Bike as the Grand door prize-it will be given away at 4:30 p.m. and you must be present to win-we will draw until we have a winner. In addition to checking out all the cool bikes, we have a great swap meet with everything you can imagine. New and used parts, clothing and riding accessories, novelties, vintage motorcycle memorabilia, stuff like old signs, you name it it's here. We've gathered enough stuff in the swap meet before to build a complete bike. In addition to the show bikes, we have some select rat rod cars and trucks for folks to check out. Bumpus Harley-Davidson is a sponsor and is always on hand selling their merchandise at great prices, and they always have a ride from the dealership to the show that morning. Sloan's Motorcycle and ATV will be on hand, and right now the Grand Door prize Honda is in their showroom for you to preview.
All ages?
Yes, this is a all age show.
Is advance registration required for bikes?
It is not required, but all who register by March 24 will get a free Spring Thaw T-shirt. We have classes for all types of bikes: Harley, Metric, Custom, Antique, Competition and more. Rat Rod classes are limited to pre-1968 vehicles. The entry form is on our website at bothbarrels.us.
What else would you like to tell the good people of Murfreesboro about the Spring Thaw Motorcycle Show?
If you would like to see some of the best bikes around, or need to find that perfect part to finish your ride, come on out.
~~
Middle Tennessee Expo Center is located at 1209 Park Ave., Murfreesboro. For more information on the Spring Thaw and other Both Barrels events, visit bothbarrels.us.