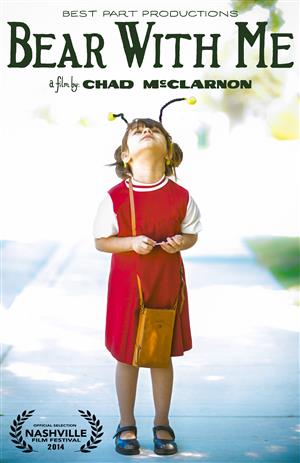 Bear with Me, by Chad McClarnon
Murfreesboro Pulse: How would you describe your film?
McClarnon: The story follows a young girl spending a lazy Sunday afternoon with a friend.
What challenges did you/your crew encounter while making the movie?
Haha, all of them. The camera crew on site was just myself and my wife/producer, Trista McClarnon. The camera started to give me an error that I'd never seen right when we went to pull the first shot. Something was wrong with the contacts on the lens. Add to all that the fact that we were shooting in the bright CA sun with no chance for a reshoot . . . with a four-year-old little girl. It was a bit of a show, to be sure.
How long have you been working in motion pictures?
I made my first shorts in college but I really started back into it, with any sort of purpose anyway, in 2010 by participating the 48-hour Film Festival.
In the process of film-making, how much of the creativity is found in production? How much improvisation do you find on set?
I think there is creativity at every stage in the filmmaking process. For production, the important part is to remember to be open to changes on set. You can never really know what to expect until you're shooting. That's why, as a director and a DP, I loathe storyboarding. I hate feeling tied down to an idea. Last fall I was DP-ing a horror film called Unnerved, directed by my friend Gary King, and we were on like the tenth take of a scene that was good, but no one was really feeling it. Gary then pulled one of the actors (Elena Sanz) aside and told her to do whatever she wants for this next take. She came in and delivered a performance that was so compelling that we then shot coverage of it from three more angles. We had to stay up all night that night re-writing several scenes to have what she said in that performance make sense for the rest of the film. And the film is worlds better for it. You have to be open to it. Most of the best moments in cinema history were improvised.
What attracted you to the medium of film?
I started in still photography. It's a much cheaper thing to get into that movie-making. But I've never really been a fan of photography. I mean, I don't consume it in the way that I consume motion pictures. In that sense, my still photography has always been inspired by film. The idea that I could potentially move into filmmaking came in college when I realized the film courses were a lot more fun that the photo classes. Taking classes in both departments instead of focusing on one-major probably contributed to my never finishing school.
What would you say of the place motion pictures have in our culture?
There is still no better artistic medium for portraying a narrative and affecting an audience.
What makes a great movie? What elements do you think an audience should look to appreciate?
A film can work or not work . . . but greatness is subjective. If a film sets out with an objective and accomplishes that objective, it works. If it moves you, or better yet, if it sticks with you, on a personal level, then it's great. Someone else can't define what that criteria is for you.
If you could change one thing about the process, what would it be?
I'm not sure what I'd change, but I think something that we'll start to see change fairly soon is the screenplay format. It's starting to feel fairly outdated as it's leftover from the days when everything was done on a typewriter. I don't really know what it'll change to, or if that change will be for the better or not, but I expect people will start trying new things there soon.
How did you learn your craft?
I learned cameras by assisting, shooting and reading. In that order. I was fortunate to assist many photography mentors growing up: Bill Steber, Wolf Hoffmann and Bob Schatz (who was Executive Producer on Bear With Me) just to name a few. For filmmaking, I took a few courses in college, as well as an entire semester independent study with the head of the broadcasting department at WKU, Stephen White. I learned a lot from him. Everything else is really self-taught, trial and error.
What themes do you like to explore in film?
The state of being helpless is very intriguing to me, as well as the clamoring for control and power in a situation that typically follows feeling helpless. None of these things are in Bear With Me, but these ideas are very interesting to me.
What inspires/influences you?
Broadly, I'm inspired by boldness. When a film or a piece of art has obviously been made with intention and is openly unashamed of itself. To get specific, I love shots in a film that show instead of tell. Kirk Douglas walking the trench before storming the Ant Hill in Paths of Glory, Samuel Jackson scared in the car at the end of Jackie Brown, Mia Farrow eating the liver in Rosemary's Baby. Moments like those stick with me.
Are there any particular genres you favor over others?
I actually really love horror and sci-fi. Not because the genres have specific things I like, but I really enjoy films that are high-stakes and few other genres explore life, death and our place in the universe better than these.
In terms of motion picture production, what would you like to see from the state of Tennessee? What advantages does the state currently have, and how do you think it could improve?
I think Tennessee has made some strides over the years. The incentives are getting better, but they're not great yet. Until the credit/tax incentives include fees to non-residents, we won't get many big productions. I'd also like to see them lower the minimum spend to include smaller productions. Louisiana, Massachusetts, Georgia and North Carolina are examples of states that are really making strong incentive pushes.
On what projects are you currently working?
I just finished DP'ing a horror feature called Unnerved directed by Gary King. It should be hitting the festival circuit in the fall. I have a short that I directed and shot called Daddy's Little Girl that will hopefully be joining Unnerved at those same festivals. My brother and I are also on the third rewrite of feature-length psychological thriller.
What advice do you have to aspiring filmmakers?
Find people you really admire. Find people that are better than you are and surround yourself with them. Also don't give up. Also don't listen to advice.
What do you see for the future of storytelling through motion pictures?
With how open and available filmmaking has become, I think we have great things on the horizon. There has never been a better time for the independent filmmaker than now.