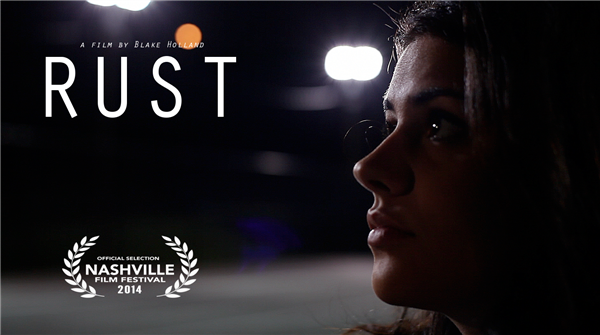 Rust, by Daniel Blake Holland
Murfreesboro Pulse: How would you describe your film?
Holland: Rust is a short film that challenges genre, tropes, archetypes and audience expectations. It addresses and calls into question the human connection, or the lack thereof, and walks that line tightly.
What challenges did you/your crew encounter while making the movie?
Nailing down a location was a challenge, and once finding the perfect home, this posed a problem in itself. It's a dialogue heavy film with a long script, and takes place almost entirely at night. Because the location was open, with its back wall constructed of windows, there was no way to create the illusion of night. Instead, we worked at night from 6 p.m.-6 a.m., which was tiring for a small crew.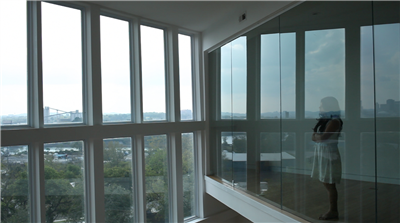 How long have you been working in motion pictures?
I found my footing after starting college. I began taking personal projects to a new place, and my craft and approach to storytelling became more refined the more I learned about art. I also began to work on sets for other shorts, music videos, web series, etc. I was making shorts on camcorders at a young age, and even back then, using a dial-up Internet and film forums, I was trying to be a part of the conversation of film.
In the process of film-making, how much of the creativity is found in production? How much improvisation do you find on set?
The creative process isn't something that goes on hold once production heads underway. You always have to be on your toes, ready for the curve balls. Being receptive and open is important to the process; it starts with the script and follows through to the final edit. Improvisation is great as well, especially when things derail or take a turn. Again, it's the openness and willingness to respond to challenges on and off set that makes film so thrilling. If you can tell on set that something isn't going to translate from page to screen as you imagined, you have to improvise, and it's here in these heightened moments where you let go of your inhibitions that cool stuff can happen.
What attracted you to the medium of film?
Growing up I was under the impression that watching a beautiful film was my way of escaping the limits of my small town, but it wasn't an escape at all. I was becoming involved. I was becoming a part of a conversation. There's a distinct language to the medium, and it possesses an ability to address and flesh out things that exist somewhere beyond our own understood language. From a young age, I knew I wanted to contribute to that conversation.
What would you say of the place motion pictures have in our culture?
Art in general is integral to the way we question society. It informs our expectations and shapes our wants and needs. It's an incredibly influential medium. It's a large component of pop culture and the mainstream market for film is huge, so it informs archetypes, tropes, stereotypes and clichés, which is something I'm aware of when approaching storytelling. It's also in this that I find that playing with these expectations or deconstructing them can heighten the experience.
What makes a great movie? What elements do you think an audience should look to appreciate?
I love to be challenged. I don't mind walking away unsettled or confused, and I'd hope all audiences possess that same openness. Of course, outside of visceral responses and first impressions, a great performance, score, or cinematography is always key. Film is collaborative, and it's cool to see these elements working together.
If you could change one thing about the process, what would it be?
This is rooted in selfishness, but there's a certain immediacy that other mediums possess that I wish film did too.
How did you learn your craft?
I go to arts college with many disciplines, and more often than not you'll find me running with the fine arts crowd. My studies, friendships and life experiences have all informed my craft. I love exploring people and relationships, and my approach to filmmaking is very similar to the way I'd interact with a friend or a lover. Again: attention, willingness, openness and receptiveness.
What themes do you like to explore in film?
I've been writing about humanity, morality, and the dangers of idolization (or the way we prefer the idea of a person more than the actual person, and the danger this poses) for a while now. Rust is a great example of my interests. I enjoy challenging or examining the human connection and the lack thereof. That fine line of a true, authentic connection vs. the convenience of a relationship is an interesting line to walk, with lots of rich material to pull from too. And as critical as my work may be against the way we do or don't connect, there's a true tenderness and interest beneath it all. I really love people.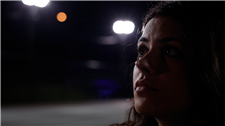 What inspires/influences you?
I'm interested in subtleties or unspoken intentions. The mechanics of human beings interests me to no end. Rust grew from the idea of something short I'd written, which involved a bloody nose. Rich imagery, like the bear rug, tennis court and the bloody nose in the film, all of which tell a story on their own, are things I pull inspiration from. Finding or building a narrative to connect themes and ideas such as those is something I'm interested in.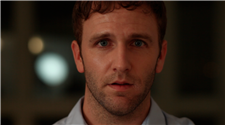 Are there any particular genres you favor over others?
Rust was influenced by many genres, so I can't say that I hold myself down to any one in particular. There's a way to do them all the right.
In terms of motion picture production, what would you like to see from the state of Tennessee? What advantages does the state currently have, and how do you think it could improve?
Aside from a short dance film I shot guerilla-style on a trip to LA, Tennessee is the only place I've made films or worked on them, so I can't draw comparisons that aren't informed by my assumptions. However, having a rich community and culture to work within, like New York City and Los Angeles is important, and I'd like to hope Nashville is on its way. There are certainly opportunities here, and NaFF is a great example of an opportunity I'm happy to take part in.
On what projects are you currently working?
I have an internship with Crackerfarm here in Nashville, where I spend most of my time editing documentary segments or EPKs for various bands, with the larger project being an ongoing documentary about The Avett Brothers. I'm gearing up for my thesis-film now, and I'm in pre-production with my cinematographer on Rust, Christin Sites, for a new project, this time a music video. Alongside film, I make music under the name Spring Blake. I'm releasing a second EP within the next few months, and an album late summer. I'm also a member of artist collective Company H., and we have an exhibition in April's art crawl at the WAG gallery in the downtown Arcade called Seven Types of Play.
What advice do you have to aspiring filmmakers?
Write and make constantly, even if it's garbage. Tell stories, and listen to stories, and pay attention to what's around you. Understand that what you're watching or what you've seen isn't the only way to tell a story. And, finally, be open to all forms of art. Study it all, because it's important.
What do you see for the future of storytelling through motion pictures?
I think it's pretty great that I'm very unsure of where the future of storytelling rests. Filmmaking is more welcoming and accessible to my generation than those before it, and I'm hoping independent filmmaking reshapes mainstream standards.