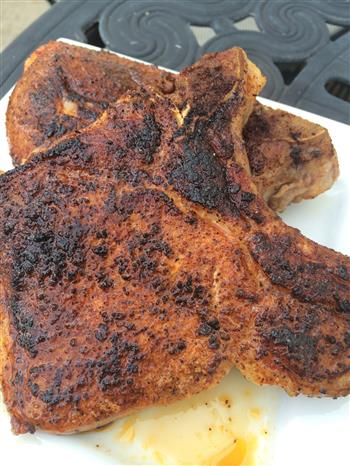 Spring is finally here! Here is a simple preparation for pork chops that doesn't skimp on flavor, but allows you to spend more of your valuable time outside, enjoying the warmer weather.
Cocoa and Chili Rubbed Pork Chops
* 4 bone-in pork chops (we got these from Batey Farms!)
* 4 tsp. unsweetened cocoa powder
* 4 tsp. ancho chili powder (or regular chili powder)
* 4 tsp. light brown sugar
* 1 Tbsp. canola oil
* sea salt & freshly ground black pepper
Method
In a bowl, mix the cocoa, brown sugar, and chili powder together until well-blended. Sprinkle a little less than 1 tsp. on the tops of each pork chop, and pat/rub in. Flip over and do the same on the other sides. Let sit for about 5-10 minutes, then sprinkle salt and pepper on both sides.
Heat oil in a skillet over medium-heat. Test to see if the oil is ready by dripping a drop or two of water in the skillet. (No sound: too cool. Splatter: too hot. Sizzle: perfect!) Add pork chops and cover for about 5 minutes. (Mine were not super-thick, so only left then in for 4 minutes.) Then uncover and flip, and cook for a few more minutes until thoroughly cooked (between 145-160 degrees). If juices start to form on top of the chops, they're definitely done! You can also grill these instead—they taste great that way!