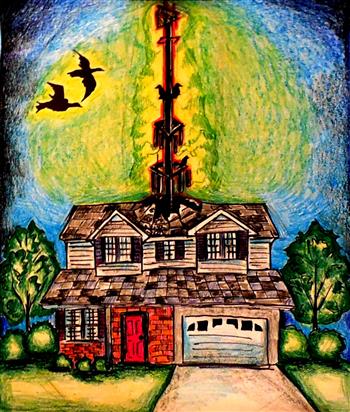 Illustration by Mai Harris
Even though those mobile devices are wireless, their use has an infrastructural impact, and, according to some studies, a risk of causing cancer and other serious health complications.
We all know how drastically technology has changed over the past decades; likewise, the landscape is changing. It's hard to look anywhere in Murfreesboro and not see a tower powering cellular devices.
Tens of thousands of cell towers now dot the nation, from sea to shining sea.
And if you're paying those mobile service bills each month, you want service, right? What's the point of having a phone if you can't stream video on it wherever you may roam?
But at least one Murfreesboro resident and property developer does not see the cellular tower trend as "progress."
"It's an invasion," said local resident Mischa Nemeth. "And it's not about communication. It's about entertainment."
Nemeth, who operates Murfreesboro home-builder Dream Homes, Inc., says he has multiple reasons to oppose the towers—for one, the property values on the homes he is developing.
Nemeth was recently involved in opposing an AT&T plan to build a tower on a Bradyville Pike property, directly across from the Fox Creek Estates subdivision he is developing.
AT&T approached Grace Baptist Church about leasing a small piece of their land to construct a 199-foot-high tower. The church, however, withdrew its rezoning request, effectively killing its property as a prospective tower site, after hearing the opposition to it from neighbors.
But rezoning requests for new towers continue to appear before the Rutherford County Board of Zoning Appeals, and AT&T and other major carriers seem to just be getting started.
The board has approved dozens of these towers in the county; the way FCC policy reads, the board is almost forced to approve the requests from cellular carriers such as AT&T.
"The legislature has limited what we can do legally to turn down these cell towers," said Board of Zoning Appeals Chairman Zane Cantrell.
Nearly two decades ago, President Clinton signed into law the Telecommunications Act of 1996, praising it for promoting competition, for developing the Information Superhighway and access to it for all Americans, and for seeking to "remove unnecessary regulation and open the way for freer markets."
However, critics of the act say it grants major telecommunications corporations too much power and gives local zoning boards, and the neighborhoods they represent, too little. The act forbids a locality from denying applications based on health or environmental concerns if the application meets the FCC's emissions standards, and requires that any decision by a local governmental entity to deny an application to construct a tower shall be in writing and supported by "substantial evidence" contained in a written record.
In the Berkeley Technology Law Journal in 1997—the year after the law's passing—Susan Lorde Martin, Hofstra University professor of legal studies in business, wrote, "The idea was to eliminate regulatory barriers to promote competition in the industry in order to encourage technological advancement and to give consumers choices. In its zeal to accomplish these goals, however, Congress neglected to sufficiently consider the interests of local residents, other than the interests they have as consumers of telecommunications services."
However, at its January 2014 meeting, the Rutherford County Board of Zoning Appeals did deny a request to rezone a piece of property at 724 Veterans Parkway, in the Barfield area, in another recent cell tower case that saw great public resistance from the neighborhood.
AT&T quickly filed a lawsuit in federal court to oppose the ruling.
"From my perspective, the county did what it had the right to do," said attorney Josh McCreary, representing Rutherford County in the case. "The Board of Zoning Appeals found that was not an appropriate spot for the tower and denied it."
McCreary said he has worked on many land use cases in the area, but this marks his first time taking on AT&T in a case involving a cell tower. Although, he said major cell carriers have filed suit against neighboring Wilson County over similar situations.
"I gave the attorney a bunch of ammunition," said Nemeth. "I want the county to win!"
Nameth's concerns extend far beyond the financial implications for his business.
"I really feel like the public has a right to know what kind of equipment is being used, and whether it causes cancer in lab rats," he said. "We can't say that communications equipment causes cancer in humans, but they can tell us whether it causes cancer in lab rats or not.
"It is illegal for the towers to interfere with the flight path of federally protected species," he said, citing the huge number of Canada Geese that fly over Murfreesboro each year.
"The honey bee has a tiny bit of magnetism in their bodies," Nemeth continued. "Whenever a bee flies close to a cell tower, its magnetism is zapped."
This effectively scrambles a bee's inner compass; and this navigation confusion in bees is not just about honey, he said.
"Bees are responsible for pollinating 4 out of 10 food items we eat," Nemeth said. "We are trading our way of life for gadgets; do you want to give up 4 out of 10 of the food items in your cabinet? This is not about telephone coverage, it's about streaming video, 24-hour entertainment, so people can watch some skateboarder get hit in their nuts on YouTube, or pornography, on their phone, and can't wait until they get home."
Aaron Frampton, with Jacobs Engineering representing AT&T in the rezoning requests, argues that the towers are needed to fill in coverage gaps, and the company doesn't just go around spending money to plop down towers for the fun of it.
"Extensive study is done by AT&T before these towers are built," Frampton said.
They may be built to cover gaps in coverage (the area where cell service is available) or gaps in capacity (the volume of data that can be transferred in a particular area), he said.
"Just because someone has good service now, AT&T has projections for the future," he said. "As more and more people use wireless devices, more towers will be needed."
The increasing number of households without a landline makes cell coverage more important than ever, Frampton said, and quality broadband network access makes a community more attractive to new residents and industry.
But many in the Veterans Parkway area disagree that yet another tower is necessary.
"We have coverage, so we have reason to deny this monopole," said Patrick Robinson, who lives in the Barfield area. "Why should there be another tower in the middle of a residential area, right across from Barfield Crescent Park, 2,000 feet from an elementary school?
"If AT&T places a tower here, property values will go down," he said. "If this is approved, my family's health, property value and welfare will not be protected."
One local mother said people's health is far more important than gaps in cellular data capacity, citing a study done in Germany over a five-year period: "the risk of developing cancer for those living within 400 meters of the mast, in comparison to those living outside of the area, was three times as high," according to that German study.
"We do not know the long-term health effect that these things cause," she said. "We keep hearing that they emit 'low levels of radiation,' but there are 20 towers within my 4-mile radius. They're piling them on top of people. How is that healthy when it has been shown that radiation changes cell growth?"
Another concerned resident pointed to similar studies from Australia and Israel, and that "all of these studies showed similar findings, that the cancer rates are twice to 120 times as much if you live next to a cellphone tower."
That resident admitted to the board that "I'm not sure you could use such evidence to make a decision."
Cantrell agreed that those type of concerns are not what the Board of Zoning Appeals looks at.
"30 years ago when we were looking at cell towers, we came up with this idea that cell towers can cause cancer; there's no credible research to support that," Cantrell said. "If people don't want cell towers, all they have to do is do away with their cellphones," he said, indicating that, with the way legislation is written, a local zoning body would have to give more weight to concerns such as the danger of the tower falling ("we do have some leverage there," he said) rather than considering the long-term impact of radiation from the equipment used.
"If we deny this, they (AT&T) will go to court and have it overturned," he warned the BZA, "but I'm willing to hang in there with you," Cantrell said, just moments before, ironically, voting "no" on a motion to deny the tower.
Now, while the future of that single proposed tower on Veterans Parkway is pending in U.S. District Court, it seems by all indications, in the midst of the smartphone revolution, AT&T and the other major carriers will continue trying to build more and more towers, and reduce those gaps in coverage and capacity.
"They are not going to stop," Nemeth said, "because they are making a lot of money off of it."