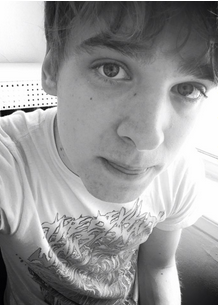 I first heard of Steve Roggenbuck, an internet poet, while returning some of my old roommate's belongings.
Sitting around catching up, Dave—said former sharer of my living quarters and writer and co-owner/publisher in his own right (Riverwalkers and Dig That Book Co., respectively)—grabbed his phone and more or less yelled with much gusto, "Brown, you've got to see this!"
He played me a video, and it was the usual viral fare: funny, quirky, goofy, ridiculous . . . but in the middle of it Roggenbuck read some lines from Walt Whitman set to panoramic nature scenes, and it was jarringly breathtaking.
(NSFW):

"Jersey" (Dave's roommate) came from the back of the house and grinned with us, and we got to talking about how absurd yet inspiring this guy was.
After further viewing of his videos and a little research I requested an interview with Roggenbuck:
Murfreesboro Pulse: I am interviewing you because of the Internet; how crucial do you think it is to our generation?
Roggenbuck: It's everything, it's changing everything. along with the climate crisis, it's almost entirely what will define this time period historically
How did you come up with the idea behind Boost(ing), and Boost House? What are your plans with it and how can people reach out to you about it?
Boost House has two roles, as a publisher and as a co-op house.
Boost House as a publisher: Our mission is to create culture and community at the intersection of positivity + activism + alt lit. We want to amplify voices who fuse poetry and Internet humor with positivity and anti-oppression. We'll make books, posters, shirts, stickers, and other goods that promote ways of living we believe in. We'll run blogs and a vibrant Internet community, while planning live events across the country. We'll launch an online free school for the community to cross-pollinate and expand our knowledge of social problems and what we can do about them. We'll aim to be a resource and hub for alt youth committed to positivity and activism.
Boost House as a co-op house: The Boost House team will live together in a house (also called Boost House) in Brunswick, Maine, starting in early 2014. It will be a drug-free, alcohol-free space, and all our house meals will be vegan. We'll compile a free lending library, hold poetry readings and potlucks for the local public, and host touring artists who are passing through. The house will be supported from our profits as a publisher. As we grow, we'll accept applications for more and more residents with our values and ambition to boost the world. We'll also broadcast from the house frequently, so people worldwide can engage and take inspiration from our communal living and boosting project.
From having such an online presence, Steve and Boosthouse raised over $17,000 on Kickstarter.
https://www.kickstarter.com/projects/1459492663/boost-house
From what I can tell Walt Whitman changed your mind about life regarding positivity. What do you have say to cynics who might begrudge you, thinking that you are just trying to cash in on an American legend? What are your thoughts on public domain usage (i.e., how do you walk the fine line of reverence without being exploitative)?
My book of Whitman's poetry is really selective. It's not just a bunch of random Whitman poems. I compiled only my favorite stanzas and lines and poems from his gigantic sprawling output. Walt was awesome but he was really long-winded sometimes. So ideally, readers need some help, like "where do i start?" and the other "selected poems of Whitman" on the market don't capture what I love about Walt. I think my selections are going to make Walt's poetry and personality much more accessible and appealing to a youth audience in 2014. All the original books are still available free online, I'm not limiting access to the originals. I'm just adding this option for sale: I'll be your guide through Walt's massive output.
What brought you to veganism?
I went vegan as a gut reaction to seeing videos and images of animals confined at factory farms and slaughterhouses! If you don't know what I'm talking about, please watch this video:
It's ridiculous the way animals are treated on most farms today. After I was living vegan for a while, I developed more of a complete philosophy behind my veganism too. For me, it's about not using others without their consent, not forcing others into things. And i think that should apply to nonhuman animals just as much as human animals, since they are obviously conscious beings who feel pain, I think it's unethical to force these things on them (confinement, death, etc).
What solidarity do you find with people who eat/use animal products?
I often befriend non-vegans based on other values we share . . . some really, really great people still eat meat. I've learned to appreciate people for what's awesome about them, even if they do some shitty stuff too.
(Steve is aware that this point of view might receive some backlash, but a post on his Facebook page has him asking his friends who eat meat why they do and him saying "I want to understand more. also I know the vegan movement has been flawed and narrow-sighted in many of its manifestations, and I want to be more aware of those criticisms too.")
Can you provide a link to a favorite vegan recipe, or do you have one of your own you can share?
Here is a video I made with a smoothie recipe I invented, The Vegan Frickwad
Thanks Steve!
Steve Roggenbuck can be found across the internet, here's the short list:
http://www.steveroggenbuck.com
https://www.facebook.com/boosttheworld
http://livemylief.com
http://boosthouse.tumblr.com