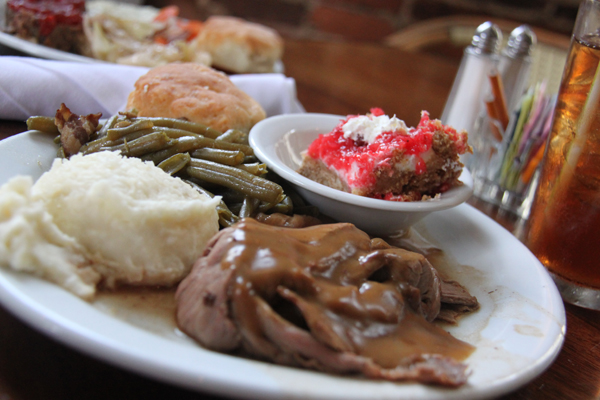 Just off the Murfreesboro Square sits a gem of a restaurant serving classic Southern meat-and-three plates for lunch; somehow, B. McNeel's balances elegant and classy with relaxed and homey.
Inside, businesspeople, retirees, university students, friends and families dine on the foods Tennessee is known for: fried chicken, pulled pork, squash, okra, catfish, sweet potatoes, grits, beans, country fried steak and much more as sunlight pours in on both dining floors of the 100-year-old building that formerly held the town's telephone company.
B. McNeel's owner Barbara McNeel Thomas opened the restaurant in 2001, and B. McNeel's quickly became known as one of the top steakhouses and fine-dining restaurants in Murfreesboro: a spot to take a date, have some wine and be wowed by the gourmet.
But over the years, the College Street restaurant has transformed into something a little different. The food is still very much high-quality, but now B. McNeel's markets its culinary efforts as "Express Lunch."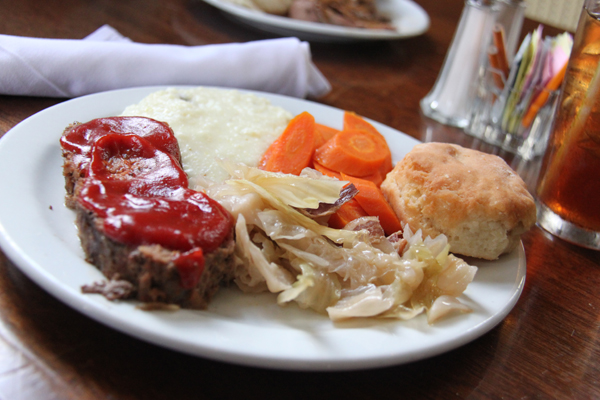 "What you envision and what happens are two different things sometimes," Thomas said.
Although the initial version of the restaurant was popular, the hours needed to change.
"I gave dinners up for my kids," she said. "I was tired of missing them grow up. . . . It goes by so quickly."
Although change can be hard at times, many of the patrons seem quite satisfied with the current incarnation of B. McNeel's.
"The chicken fried steak is really good," one lunch customer said. "And very filling."
B. McNeel's offers various salads, fruit and veggies, for those wanting something a little less fried. But:
"They make a great salmon cake," said another longtime B. McNeel's diner.
Personally, it doesn't get much better than a meatloaf plate, with some fried cabbage, glazed carrots and cheese grits.
Then again, there's the thinly-shaved roast beef with gravy. . . .
Lunch plates start at $5.75 for an entree selection with choice of one side.
"I can take a client to lunch in one of the nicest restaurants in town for $20 for both of us," said a local businessman.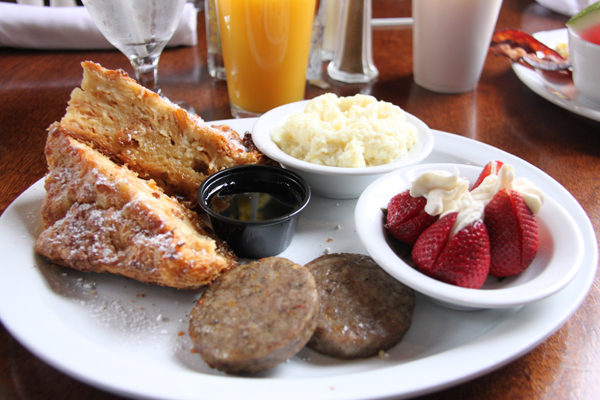 In recent news for the restaurant, Thomas decided earlier this year to open the restaurant for breakfast each weekday at 6:30 a.m.
In addition to the bacon, eggs, juice and biscuits, B. McNeel's includes cream-cheese-stuffed strawberries, French toast, and chicken and waffles on its breakfast menu.
Of course, the Sunday brunch buffet at B. McNeel's has garnered a great reputation and has long been a favorite Sunday spot for Murfreesborans wanting to sample a variety of incredible dishes.
However, along with the changes at the restaurant, mimosas are no longer part of the offer.
"I gave up the liquor license," Thomas said. "I debated it for years," and she finally decided that the restaurant wouldn't sell alcohol.
But still, the Sunday brunch, the quick, quality meat-and-three plates, the charming building with the adjacent beautiful, shady patio setting right in the heart of downtown Murfreesboro all keep the customers happy. Try it one one day for lunch, but remember to get there before the doors lock at 2 p.m. Thomas has places to be—with her children.
The Dish
B. McNeel's Restaurant
215 N. Church St.
Breakfast: 6:30–10 a.m., Mon.–Fri.
Lunch: 11 a.m.–2 p.m., Mon.–Fri.
Sunday brunch 10:30 a.m.–2 p.m.
(615) 896-1002
Meat and 3: $8.25; Fried chicken salad: $9; Sunday brunch: $14
boropulse.com/bmcneels