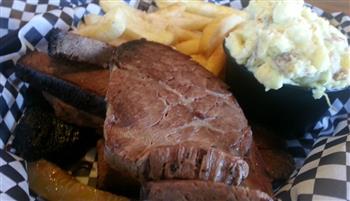 Woo-hoo! Back in the business-review saddle, and what better way to kick it off than at one of my favorite restaurants in Murfreesboro? Michael Baker of Insperity (a benefit solutions professional serving small and mid-sized businesses) joined me for lunch at Kirkenburt's. The restaurant is conveniently located on Cason Lane, across the street from Kroger and Dairy Queen. If you go down to the single lane, you've gone too far. We were seated quickly without having to wait for a table. I ordered the delectable Texas-Style Beef Brisket.
I barely had to wait before the steaming stack of sliced brisket was sitting in front of me, protected by a side of mustard-based potato salad, homemade cornbread and, check this, a spicy pickle. I'm not talking a sour pickle with a little zing. I'm talking a pepper that'll have you reaching for the glass of super-sweet tea in a hurry. The brisket was tasty, juicy and so tender that I was constantly fighting the urge to devour the yummy beef, going as slowly as possible to savor every bite. The cornbread (I'm pretty sure) is served with every meal and if it doesn't come with your meal, order it! It's almost as good as Mom's and definitely a worthy substitute if you don't live at home anymore. The only thing Kirkenburt's does wrong is keep knives in stock. That brisket is so savory and tender, it fell apart just by looking at it.
Kirkenburt's is definitely a restaurant worth going to again and again. How can you go wrong with affordable, well-prepared meat that melts in your mouth? Go to Kirkenburt's at the right time, and you may even catch the big game on the TV, or a cornhole tournament outside. So definitely go there if you need a quick, tasty and affordable lunch or if you are ready for a kickin' dinner. I'd recommend any friend take their fun kind of date here, or just meet a client for lunch for a really great time with great atmosphere and awesome Tennessee barbecue.
Kirkenburt's Smokehouse Grill is located at 517 Cason Lane in Murfreesboro. You can contact the business by calling (615) 893-FOOD or visiting kirkenburts.com. Like them on Facebook if you dare by searching "Kirkenburts Smokehouse Grill."
Product Quality – 9
Price – 8
Ambiance – 8
Customer Service – 9
Cleanliness – 8
Total score (out of 10) – 8.4
Likely to refer to a friend? Absolutely.