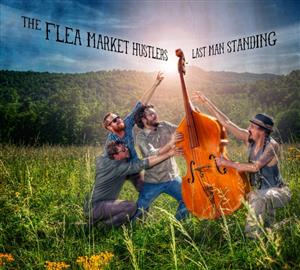 A follow up to their first recording, Free Demo for Sale, which received critical acclaim and national airplay, Nashville foursome Flea Market Hustlers' Last Man Standing contains 12 tracks of subtly celebratory and spirited acoustic bluegrass.
With John Furbush on mandolin and harmonica, David Preston on guitar and bass, Mike Tharpe on banjo and Jake Winebrenner on percussion, all four band members contribute vocals to the songs, which fairly consistently keep an even tempo and an easy, accessible quality.
Favored for their festival performances, like their late-night campsite set at Americana Music Festival and televised show Jammin' at Hippie Jack's, Flea Market Hustlers' latest release is filled with mandolin parts that flutter beautifully throughout the album and a banjo consistently rambling with finesse that doesn't overpower the other instrumentation.
Some tracks, like "Hey, Hey," are introspective and deal in abstractions and long brushstrokes:
All along the winding way
I came, I saw, I did not stay
I lived, I died, I did not change
The beautiful "Downfall" laments:
If anybody sees me drowning
If anybody sees me at all
If anyone sees me falling
Why don't you catch me on my downfall.
Love, sweet and sour, past and present, works its way into Last Man Standing as well, from the ridiculous but sweet "Liquor in the Collards" (I searched the whole world over/Not another girl will do/All the things your mama/Would not approve) to "Buried My Darlin," written about "that old mule who used to ride my ass," who is now fertilizing a cornfield.
The track "6:15" is about contentedly waiting out the last hours before the end of the world, and "Long Haul Breakdown," one of the best on the record, is a pretty, wordless, windy dance of strings and a jumble of banjo. All in all, Last Man Standing is a long, breezy, rhythmic, musically picturesque bluegrass stretch.