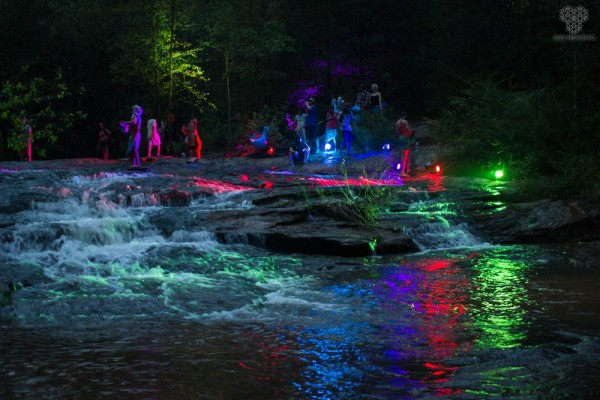 Gratifly 2014 invites those interested in inner growth to its second transformational music and arts gathering in Westminster, S.C., from July 24–27, with four days of interactive art, live art ("House of Creation"), community learning and workshops, camping, swimming and more in support of the East Coast's new-age music and art wave. The beautiful open fields, calm woods and riverside land of Avalon succeed in also bringing one of the most diverse and worldly, transcendental electronic music lineups including such acts as Papadosio, The Polish Ambassador, Opiuo, Rising Appalachia, Random Rab, Earphunk, Desert Dwellers and more.
Aside from enjoying funky and down-tempo electronic beats and fresh, local and organic food featured at Cafe Gratifly (meal plans can be purchased), plan to walk away from Gratifly with an uplifted, enlightened spirit thanks to the magnitude of visionary art, workshops and movements presenting meditation, storytelling, yoga, painting, healing offerings and sustainability techniques. Kelsey Landis, Nick Cudd, J.D. Burnette and Vicktoria Lariche are just four giving their time and hearts in hopes of helping others connect with themselves, one another and the earth. There is no doubt Gratifly 2014 will be one of the most life-changing experiences of the year.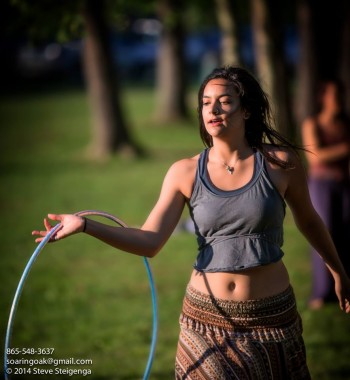 Kelsey Landis
Age: 21
Current City: Knoxville, TN
Information: Student at University of TN, Knoxville. Majoring in American Studies with a focus in Gender Studies and Human Rights, and minoring in International Agriculture and Natural Resources.
Interactive Art
Murfreesboro Pulse: What will your art installation at Gratifly 2014 feature?
Landis: I'm creating an art installation to hang in the trees. I am making several very large dreamcatchers!
Why Dreamcatchers?
I have been making dreamcatchers for three years. I have felt a special connection to them since I was little, because my family often took camping trips out West. I fell in love with them when I first saw them, so my parents let me pick out a dreamcatcher from some of the national parks that we visited. I still have my first one hanging above my bed. Native American culture is something that has inspired me in many ways, and as I started making them myself, I began to understand the depth behind them. Not only can they bring a person comfort and courage, but their geometric intricacy is just so unique and beautiful.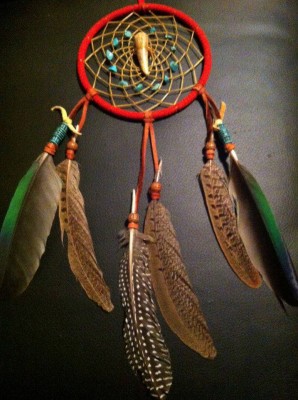 Why Gratifly?
I have heard such amazing things about Gratifly. Not only does this festival bring amazing musicians and artists, but it is such an intentional festival. They promote mindfulness, friendliness, love and caring for the environment. When you bring so many people together that support these ideas, it can be incredibly powerful. I felt as though being a part of this, and creating a sacred space within it, would be much more meaningful than at some other festivals.
Where did your inspiration come from? What do you hope others get out of your art installation at Gratifly?
I originally made a large lit up dreamcatcher for my "festy family's" totem, which inspired me to experiment with more large dreamcatchers and with weatherproof and found materials. As I thought more about this, I imagined sitting in the woods and the peace that I feel sitting among the trees. I wanted to create an installation that was cohesive with that environment rather than imposing upon it. I felt as though large hanging dreamcatchers could create this space for people to escape from the chaos of the crowds for a moment where they can feel serenity, protection and love. I will be using found materials like wood and vines, hemp, fabrics, leather, crystals and trinkets. The dreamcatchers will be mixed in with alter spaces that Georgia Lawrence is creating, so we hope that the area will be a place of spiritual reflection as well as a safe haven for anyone that is having a bad night.
What other art pieces can we find from you on a daily basis?
I make every type of dreamcatcher you can imagine: hat pins, necklaces, earrings, gauges, custom pieces, festival totems, etc. I also make custom gauges and jewelry and love to include found objects, trinkets, and lots of crystals in my work.
What are you hoping to take away from Gratifly 2014?
I think that Gratifly will be a time of spiritual reflection for myself, considering the awesome music, art, and people that I will be surrounded by. I've also never had an installation at a festival before, so Gratifly will be my first, but I am hoping not my last!
For more information, visit Etsy.com/shop/GoodVibesForSale or Facebook.com/GoodVibesForSale.
Age: 27
Current City: Knoxville, TN
Information: Graduated University of Northern Florida in 2009 with a major in Philosophy and Music (dual action).
Interactive Art
Murfreesboro Pulse: What will your art installation at Gratifly 2014 feature?
Cudd: I will be a renegade vendor, painting tents and hammocks with sacred geometry.
Where did this idea come from and what do you hope to do with it?
I got the idea while I was down at Purple Hatters Ball. I was sitting at camp when someone came by with awesome stickers that said "Enlighten" in cool ways. He offered to put one on my car free of charge, and it looked so great I bought a second one. Once he had gone, I started thinking how great and simple that was, and it was only $5. What a good price point!
I started wondering about decorating people's bags with paint, and then suddenly it hit me. I looked around and everywhere there were tents, tons of them. They were all the same, plain and simple. I started thinking of ways I could spray paint them and thought of making custom stencils. The following weeks I experimented with different spray methods and different paints. Most tents are waterproof, so it was difficult to find a paint that would both be absorbed into the material, dry quickly and not crack once rolled up. After many attempts I found a custom blend of paints that works terrific and comes in many colors including a glow in the dark that is charged by UV light. I cannot divulge what that secret blend is, though.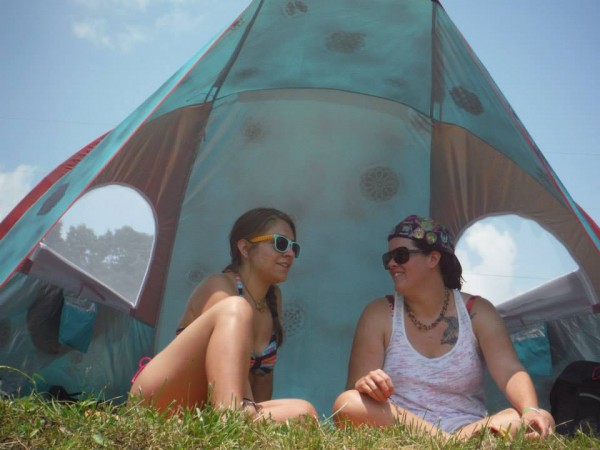 I have created many different stencils since then as well, plenty of "heady" symbols and words that can be arranged however you like all over the tent. I am still getting better at it, and as time goes on my designs and work will grow more complicated and detailed. I am happy with how it is turning out so far.
I recently tested it out at Paradise Music and Arts Festival, and it went over very well! I was able to meet a ton more wonderful people and add some nice art to their tents like butterflies, sacred geometry even custom festival specific stencils like that Gratitude one I made specially for Gratifly. I will be at Gratifly with plenty of options and paints walking around through the magical forests decorating any and all tents; this will even work on hammocks or anything of that material really.
I am looking forward to growing my operation and maybe one day create custom tents for people that they can order online, or people can give me specifics and I will create what you want. You could even send me your tent.
For more information, visit https://www.facebook.com/Qantas8.
J.D. Burnette
Age: 26
Current City: Kingston, TN
Information: Attended Roane State Community College-Harriman. Founder of Farmstead Foodscapes.
Workshop: Permaculture Lifehacks—Easing the Struggle for Transition and Regeneration from 2:30–3:30 p.m. Sat. at the Forest Stage
What will your workshop at Gratifly 2014 feature?
Burnette: The main point of this is to get people to see opportunity where there are problems, to get them thinking, acting and hungry for the change we need. I will be discussing some basics of Permaculture, give you some insight into the way Permaculturists think, and then list and explain simple technologies anyone can adapt to reduce their fossil fuel dependencies while increasing the richness and energies in their own lives.
What is your history with Permaculture?
I actively study many topics related to Permaculture such as general sustainability, regeneration, transition, aquaponics, mycology, marketing, market gardening, French Bio-intensive and SPIN Farming (Small Plot Intensive). This year I began a market garden, Farmstead Foodscapes, a small acreage market garden.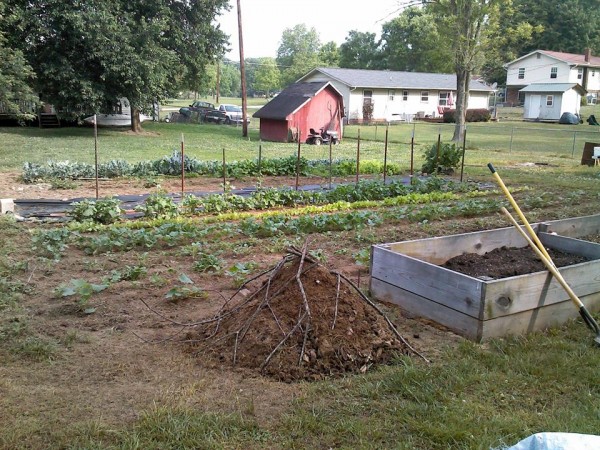 What is Farmstead Foodscapes?
Using permaculture as the holistic design science it is, I am cultivating plants using the French bio-intensive methods along with SPIN farming business principles. This is my first year planning, planting, picking and processing, and it is certainly a lot of work but it is fun. I get to be my own boss, I am outside all the time and I work with friends. The rhythms of nature dictate my schedule. I cannot complain, but there are still several tools I need to make things more efficient. I expect two to three more years working more chaotically than I would prefer before the system settles down.
Why Gratifly?
[I'm doing Gratifly] to network, collaborate, see friends, make new ones, to teach and to learn. I was at Gratifly last year. This is now actually my third time on the grounds as I presented this same workshop and one on SPIN Farming at Kinnection Campout earlier this year. I really need tools, cold storage and a few other things to really make a go of this. Also, I am partnering with Dylan Hamilton of Asheville, N.C., Clayton Garr and Taylor Pearon in the early spring to produce a 5-day Permaculture Immersion in the mountains of northeast Georgia. Get a hold of me if you would like to join in and support either of these visions with me.
For more information, visit Facebook.com/farmsteadfoodscapes and sign up for the e-mail list.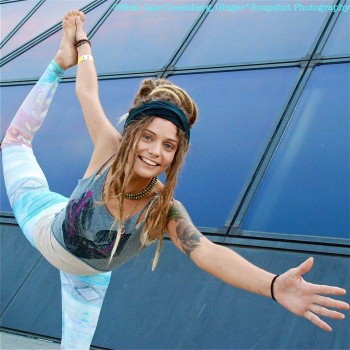 Vicktoria Lariche
Age: 23
Current City: Cleveland, Ohio
Information: 200 Registered Yoga Teacher at Frog Lotus International. Graduate in Human Services-Social Work from the University of Akron.
Workshop: Detox Yoga Flow from 2-3 p.m. Sun. at the Yoga Tent.
What will your workshop at Gratifly 2014 feature?
Lariche: I will be offering a special Detox Yoga Flow class with articulated asanas to rid the body and mind of toxins creating a more free and purified space. We will also be utilizing the healing powers of sound, meditation and breathing to call upon our inner guru; we will experience ourselves as our own creator, destroyer and sustainer. My students can expect to leave the practice feeling cleansed, strong and more balanced.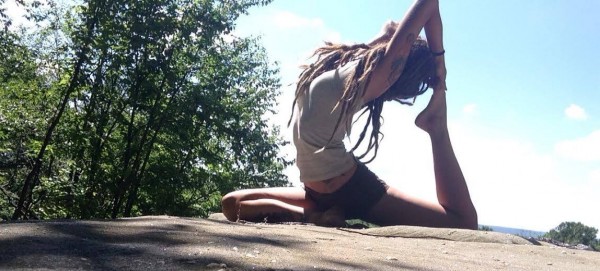 Why Gratifly?
I wanted to be a part of Gratifly because I value everything that this amazing gathering stands for. I was a part of the Movement Performing Arts last year and it was by far one of my favorite events I had ever experienced. My soul sang from all the beauty, love, healing and music. I could truly feel the sacred space being held. The focus did not feel so much outward as it did inward. This year I want to share what I have in my heart with all the beautiful beings that will be present though the ancient yogic knowledge I have gained. Love truly is the highest.
For more information, visit https://www.facebook.com/vicktoriayogilife or contact vicktoriayogalife@yahoo.com.
For more information on Gratifly 2014, visit www.gratiflyfestival.com, Facebook.com/GratiflyMusicandArtsFestival, or Twitter.com/GratiflyFest.