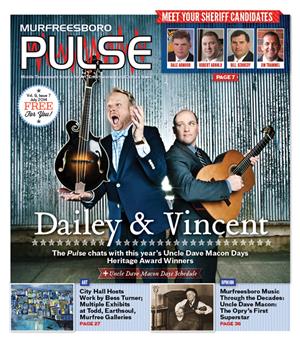 EVENTS
June Community Events
Celebration Under the Stars; Zumbathon; Chess Camp; Riverdale Football Banquet with Butch Jones
LIVING
Growing as a Community
Many gardening resources offered at Lane Agri-Park.
The Law of the Land
Will Sheriff Arnold, facing challenges from Tramel,  Armour and Kennedy, be back in office for another term?
SOUNDS
Karaoke, Trivia, DJ & Bingo Nights
Places to go for fun with friends
Album Reviews
Flea Market Hustlers
Ivan LaFever
Bearheart
The Corbitt Brothers
The Suez
Navaeh
Bonnaroo Hosts Sing-A-Long with Sir Elton
Festival 13 in the books
Conscious Alliance
Group blends art and community service at music fests.
Uncle Dave Macon Days
Dailey & Vincent to accept 2014 Heritage Award
Hellbillies Family Reunion
Hellbillies to stage (yet another) farewell show on July 11 
FOOD
A New Direction: Classically Southern
B. McNeel's serving the famous foods of Tennessee. 
ART
Ryan Frizzell
The Rhinovirus of Art can't stop creating!
July Art Happenings
City Hall Rotunda hosts Bess Turner's work this month.
REVIEWS
Movie
Edge of Tomorrow
Living Room Cinema
Peril in the Lower Americas
Video Game
The Elder Scrolls Online
Book
Orphan Train
SPORTS
Sports Talk with Z-Train
Don't scalp the Redskins.
Fitness
You lost weight; so why do you still feel bad?
Blue Raider Sports
MTSU recruiting football fans for 2014 season
OPINIONS
The Stockard Report
Rutherford County election season heating up
Phil Valentine
Sterilization means fewer will rely on the welfare system.
Music Through the Decades
1920s: Uncle Dave Macon, the Opry's First Star
Four Steps to Organizational Success
Step 3: Process Improvement.