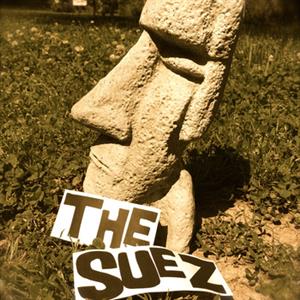 Culture Cringe, Murfreesboro's all-encompassing podcast, zine and label for music and other art forms, recently released The Suez's first EP, an eponymously titled five-track record of sparkly throwback pop executed with strong female vocals that bring to mind miniskirts and go-go boots without being overdone or trying too hard; they're self-described as "surf-pop-a-doo-wop-a-ding-dong," which is about right.
Named after the renowned Suez Motel on Miami Beach where underground filmmaker and gore-lord H.G. Lewis shot 1963 horror flick Blood Feast (which is about a community terrorized by a serial murderer targeting local girls), the four-piece band includes Austin Coppage of Tetsuo and Culture Cringe co-founder Ben "Cringey" Kaboom.
Taylor Gibbs fronts the band with vocals rife with retro charm and equal parts sweetness and swagger, like a cross between Grace Slick, Linda Ronstadt and Nancy Sinatra meshed with a surfy '60s pop sound. On "Johnny Get Angry," a cover of an obscure early 1960s hit, Gibbs attempts to tease a reaction out of a passive love interest (Johnny get angry, Johnny get mad . . . show me that you care for me) while the bass rumbles and a vocal chorus of coyote-like howls interjects midway through.
Feedback on Gibbs' voice is bewitching amid a freewheeling melody set by a twangy guitar on "Chevy Chase," and my favorite is a tie between rollicking romp "Do Me Do Me" and "Suez War Whoop," whose popping snare lays a pronounced base for the song, speeding up to a war cry at the end.
The album dropped in early May after a recording session a month earlier produced by Justin Kirkland at Screen Door Records in Old Hickory, Tenn. A deluxe cassette version is forthcoming on Culture Cringe Records.
For more information on the band visit facebook.com/thesueztn, or listen to the entire record on Bandcamp.