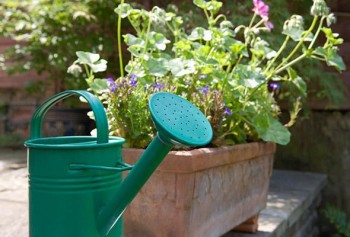 As we approach the high heat of the summer, take a walk through the demo gardens at the Lane Agri-Park Community Center located at 315 John R. Rice Blvd. Not only will you enjoy the beauty of the gardens, you will get practical, usable ideas.
There are raised-bed samples for vegetable gardening as well as examples of alternative irrigation. Rain barrels are installed to collect the runoff from the pavilion roof. The vegetable gardens are an example of drip irrigation, which utilize water collection into a barrel from a faucet, then distributed throughout the gardens by drip irrigation hose. This method is water efficient and very healthy for the plants, minimizing water collection on the plants themselves. This irrigation drips directly onto the soil, supplying water to the roots.
Throughout the year, Extension Service agents and Master Gardeners are asked to speak at clubs and organizations. If you are interested in arranging a speaking engagement, please direct your calls to the Rutherford County Extension Office, (615) 898-7710.
If you are interested in horticulture, please come to an RC Master Gardeners meeting. They are held at the Lane Agri-Park Community Center on the third Monday of each month, beginning with a potluck at 6:30 p.m. All meetings are open to everyone.
The website mastergardeners-rc.org has more information and also visit facebook.com/MasterGardenersRutherfordCounty for current concerns and gardening problems and solutions.
Free Farmer's Market Education Series Continues
This month's upcoming classes offered as part of the 2014 Rutherford County Farmer's Market Education Series cover a wide array of outdoor interests throughout the month of July. If you are a gardener, reap the benefits of gardening, or if you are looking for earth-based activities, there are free classes to broaden your horizons.
These programs continue throughout the market season at the Lane Agri-Park Community Center and are held during the market on Tuesdays and Fridays at 9 a.m., lasting approximately one hour.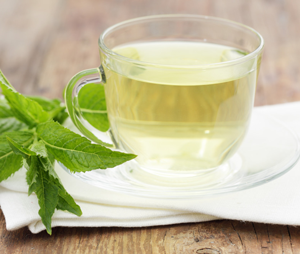 July 1
Worm Farming at Home
Mimi Keisling, RC Environmental Education
A kid-friendly class on discovering the wonderful world of earthworms and how to use them to improve your garden soil.
July 4
Through the Looking Glass—DIY Smartphone Microscopes
Laura McCall, Tullahoma City Schools
Use your smartphone to get up close with the world around you. Curious minds of all ages will enjoy.
July 8
Teaology
Tiffany Malapanes, Positiffitea
There is more to tea than bags! Learn the various types and benefits of drinking tea.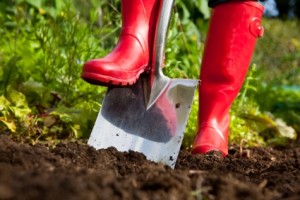 July 11
Composting
Mark Murphy, Certified Master Gardener
What is composting? How do I start? What is it good for?
July 15
Small Ruminate Care
Michael Shirley, RC Extension Agent
The basics of raising & caring for sheep & goats. Be dressed to go to the barn!
July 18
Let's Talk About Weather
Tom Johnstone, NOAA
Calling all citizen scientists! We'll talk about weather trends and major events in Middle Tennessee.
July 22
Fall Garden Planning
Richard Lee, Certified Master Gardener
Gardening can be almost year-round! Learn what to plant for the fall to extend the season.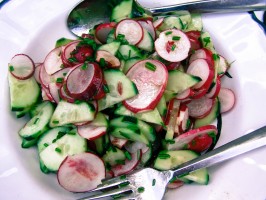 July 25
Eat Well, Spend Less
Misty Layne-Watkins, RC Extension Agent
Learn to stretch your food budget while still eating healthy.
July 29
Seasonal Eating
Tiffany Schmidt, RC Extension Educator
Taste new dishes made with the season's freshest locally grown produce. Free recipes.
Aug. 1
Geocaching 101
Walter Dirl, RC Extension Agent
Learn about this great outdoor activity that the whole family can enjoy together. You will even get to go outside and search for hidden caches.
More information about the Rutherford County Farmer's Market, including a list of other upcoming classes, may be found at extension.tennessee.edu/Rutherford/Pages/Farmers-Market.aspx.