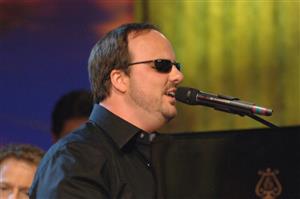 Gordon Mote, pianist for Bill Gaither, will be the guest performer at the Annual Special Kids Friendraiser Banquet to be held Sept. 4 at World Outreach Church in Murfreesboro.
Mote has shared the stage with such popular performers as Martina McBride, Alan Jackson, Rascal Flatts, Josh Turner, Carrie Underwood and Porter Wagoner, while becoming one of the most sought-after session players in Nashville.
Mote, himself blind since birth, will not be the only guest with a special talent. This year's feature child for the banquet, 3-year-old Christian Buchanan of Woodbury, is a music prodigy in his own right. Buchanan was born with a Tessier cleft lip and palate, and cleft eyes, leaving him only able to see light and dark. A year later, Buchanan's mother, Lacey Buchanan, created a homemade video about Christian's story that went viral within weeks and reached millions of viewers. Today, Lacey and Christian Buchanan have over 226,000 Facebook fans who follow videos of the young Mozart picking out the G scale on the piano.
To join Special Kids for the Sept. 4 event, tables of eight are available for $800 or individual seats for $100 at specialkidstn.com/friendraiser-banquet. Proceeds from the event help children like Christian receive therapy and nursing care from Special Kids.
Special Kids is a Christian therapy and nursing center for children with special needs. The Murfreesboro-based ministry started with one child in 1998 and has grown to serve over 2,600 children from 18 counties in Middle Tennessee. For more information, visit specialkidstn.com or call (615) 893-4892.