Based on the 2006 Disney channel movie of the same name, High School Musical has come to the Murfreesboro Center for the Arts. Another musical I had never seen, it is differentiated from the others in that I actively avoided seeing it. I grew up watching a lot of Disney movies, even Disney Channel movies (a markedly different animal), but High School Musical came a little late for me.
The story—for those who, like me, have never experienced it—centers around two teenagers at East High School. Troy Bolton (Connor McCabe) is a basketball star; Gabriella Montez (Brianna Booker) is an intelligent but shy new girl trying to find her place among a school heavily divided into very rigid social cliques. When the two try out for the school's musical play, they send their friends and classmates into a tizzy that leads to full-scale revolution. Part Grease, part literally every other high school movie you've ever seen, it could almost be a parody of the entire teen-angst genre if it took itself a little less seriously.
The young performers who drive the production are almost without fault. It's easy to pick the veterans from the neophytes, but each of them played their roles with aplomb and passion, which made an otherwise stale premise extremely enjoyable. McCabe's self-possession and characterization is impressive and Booker has the voice of an angel. Listening to the two together is surprisingly pleasant and their chemistry makes their chaste love affair quite believable. The antagonists of the story, Sharpay Evans (Kait Kloss) and her brother, Ryan (Blake Holliday), are both very talented and possess excellent comedic timing.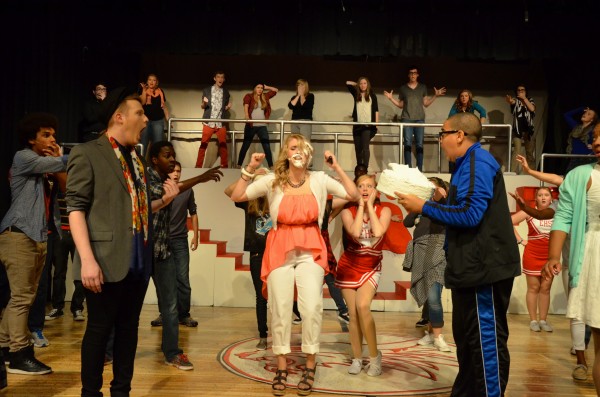 My main difficulties lie with the story itself, which may have something to do with the fact that my high school experience was in no way comparable to that of East High School. Not say we didn't burst into song and dance at the drop of a hat—because we definitely did—but rather, the slavish devotion to an unyielding social hierarchy that disallowed personal growth and exploration, in our case, didn't really exist. In addition, the saccharine-sweet sterilization of the teenage experience is more than a little fabricated, even for Disney. That is, however, an opinion based on a personal experience, which I know not everyone shares. Perhaps others went to a school where cliques were common and cruel, making identification with this story easier.
To the credit of the stage performance, after seeing it I watched the original movie and the former is definitely superior (despite a young Zac Efron). The characters are more complex and the flow is less disjointed. The choreography is more limited, but that's to be expected and is, in fact, no real loss. Despite the white-bread wholesomeness of the material, I enjoyed the show. It's funny, entertaining, and contained (very) subtle hints of an Orwellian dystopia, which I always appreciate. And I can't oversell the young performers enough. It's absolutely worth attending, particularly if you have young teenagers.
High School Musical runs through Aug. 31. To reserve tickets, visit boroarts.org.