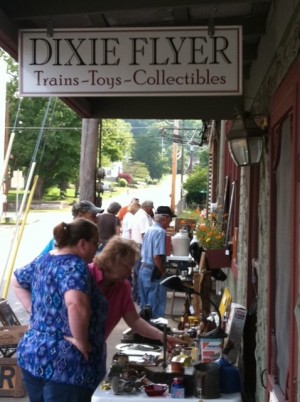 An annual tradition in late August for Middle Tennessee pickers and yard sale fans is the town-wide yard sale held in the historic town of Wartrace, Tenn.
Wartrace is encouraging out-of-town dealers and local residents to scour their garages and attics for items to offer the hundreds of visitors who attend the event each year. Buyers will find antiques, collectibles, flea market merchandise, handmade crafts, and the occasional oddball what-iz-it along the thoroughfares and off-the-beaten-paths in town. Previous yard sales have found new homes for boats, cars, and farm implements.
This year's Friday and Saturday event takes on a festival atmosphere as the Wartrace Chamber of Commerce sponsors a Kid's Zone with attractions including an inflatable bounce house, pony rides and food vendors.
Dealer space is available at a nominal fee for out-of-town merchandisers and food vendors. Contact the Wartrace Chamber of Commerce at (931)-389-6144 or townofwartrace@att.net. The sale opens at 6 a.m. each morning.
Wartrace is located 10 miles west of I-24 exit 97.