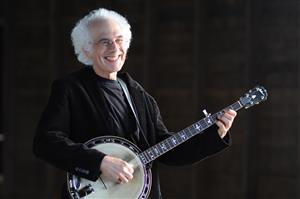 Renowned folk scholar and Grammy nominee Stephen Wade is bringing the music, stories and photos of the American South to MTSU in a special late-September campus visit that will feature free public concerts and chats.
Wade's visit is part of the university's Tom T. Hall Writers Series and is co-sponsored by the College of Mass Communication's Center for Popular Music.
The largest event, "A Concert and Conversation with Stephen Wade," is set for Thursday, Sept. 25 at 5 p.m. in Room S102 of MTSU's Business and Aerospace Building.
Wade plans a mini-concert at noon on Wednesday, Sept. 24, in MTSU's James Walker Library Atrium, followed by an informal meet-and-greet session in the library's Periodicals Lounge from 12:30 to 1:30 p.m. These events are free and open to the public.
Wade also plans to work with MTSU students in Professor Martha Norkunas's Oral History and Writing Oral Histories classes and in Professor Greg Reish's History of Popular Music course.
Dr. Reish, newly appointed Director of the Center for Popular Music, has known Wade for some time and worked with him.
"Stephen is an extraordinary scholar and musician, passionately devoted to the vernacular music of the United States and the people who make it," Reish says. "His presentations are truly marvelous, and we are very excited to welcome such a captivating and engaging figure."
Wade's performances blend live music, projected imagery and spoken narrative to explore the stories in his award-winning 504-page book, The Beautiful Music All Around Us: Field Recordings and the American Experience (University of Illinois Press, 2012).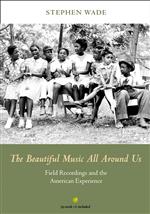 Winner of ASCAP's Deems Taylor Award, Beautiful Music tells the fascinating stories of iconic Library of Congress field recordings made between 1934 and 1942, from Southern Appalachia down to the Mississippi Delta. Wade spent years researching the people behind these recordings and worked closely with their descendants. To learn more about the book and music, visit press.uillinois.edu.
Wade became intrigued by traditional music and folklore as a youngster growing up in the 1950s and '60s in Chicago, where he met musicians moving into the city from the Mississippi Delta and the Southern Appalachian Mountains. He learned guitar at age 11 and eventually switched his attentions to the banjo, ultimately traveling across the United States to research American humor and folk tales and meet with folk musicians in the field.
Wade developed acclaimed theater performances, including Banjo Dancing and On the Way Home, to share his love of folk music and history. Wade also was a part of the public television documentary The Unquiet Library, a study of the Library of Congress's music division,and has authored essays, reviews and articles published around the country. He has recorded and/or produced more than a dozen albums, including his most recent, the Grammy-nominated Banjo Diary: Lessons From Traditions on the Smithsonian Folkways label.
Wade's appearances are co-sponsored by the MTSU's College of Mass Communication, Center for Popular Music, College of Liberal Arts, Department of History, School of Music and the Virginia Peck Trust.
The Tom T. Hall Writers Series in the College of Mass Communication at MTSU celebrates songwriters, authors, poets and screenwriters and offers students, faculty, staff and the public a chance to learn more about the creative process as well as the business end of success.
Previous Hall Writers Series guests have included country superstar Vince Gill; acclaimed songwriter John Hiatt; country and bluegrass singer/musician/composer Ricky Skaggs; Dan O'Shannon, one of the Emmy-winning executive producers and writers of the hit ABC comedy Modern Family; and the Emmy-nominated creative team behind the HBO Films movie Bury My Heart at Wounded Knee, which included MTSU alumnus and composer George S. Clinton.
The Center for Popular Music (popmusic.mtsu.edu) is a research center devoted to the scholarship and dissemination of America's popular music. The Center maintains a large archive of research materials stretching from the early 18th century to the present, and develops and sponsors educational and public programs in vernacular music. Anyone is welcome to use the Center's collections and services for research and scholarly pursuits.