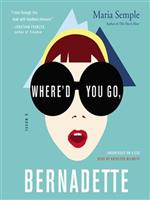 Review by Michelle Palmer
At first glance, Maria Semple's bestselling novel appears to wear a lot of hats—part comedy of errors, part coming-of-age tale and part mystery. But when you dig a little deeper, Where'd You Go Bernadette is an insightful, hysterically funny novel that will make you laugh out loud in one sentence and touch your heart in the next.
Bee Branch has almost completed 8th grade at Chalen Street, a private school in Seattle, with straight S's (they don't give grades at Chalen; it undermines the children's confidence) and is so excited she is about to burst. Her parents promised Bee that if she got perfect grades through her entire career at Chalen, she could have anything she wanted as a graduation present, and what Bee wants, desperately, is a family cruise to Antarctica. What Bee doesn't realize is that for her mother, Bernadette, this request is nearly impossible; Bernadette is mildly agoraphobic, and since her move to Seattle many years before, has become a recluse. At first, Bernadette, a gifted architect, and dad Elgin, a shining star at Microsoft, seem on board with Bee's plan. As the trip draws near, however, friction between Bernadette and other Chalen Street moms (whom Bernadette scathingly refers to as "gnats") escalates, and Bernadette simply disappears.
Told entirely through letters, e-mails, messages and even police reports, Where'd You Go Bernadette is a novel unlike any other. While at first this style may seem hard to follow, within a few chapters you realize that Semple has seamlessly wound together such a tightly written plot that you almost forget it's written in such vastly different voices. Semple, whose resume includes writing for Arrested Development and Ellen, has a gift for dialogue. The unique qualities of each character emerge in their various ramblings, whether through a live blog or a frantic e-mail. At the heart of this story is Bernadette, whose passionate dislike of Seattle is evident in rants on everything from women's hair (always gray) to traffic intersections (five-way stops!). It's abundantly clear that Bernadette does not fit in with the other North Face and clogs-wearing, coffee-drinking, weather-obsessed mothers at Chalen Street, and it is this tension that eventually causes Bernadette to go off the grid.
The latter part of the novel is primarily told through Bee's voice, as Elgin and Bee eventually take the last Antarctica cruise of the season. Through a bizarre twist, Bee winds up with every piece of correspondence leading up to her mother's disappearance, and through these letters, e-mails and reports, Bee hopes to find clues as to where her mother has gone. This is where the novel shines: the moments that examine the lovely and complex relationship between Bee and Bernadette, the healing between Bee and her father, and the search not just for Bernadette, but to make a family whole once again.
Where'd You Go Bernadette was ranked as an Amazon Best Book of the Year and was shortlisted for the Women's Prize for Fiction in 2013, as well as garnering glowing praise from publications and fellow authors. Maria Semple's novel is a delightful read that will leave you laughing long after you turn the final page.
Michelle Palmer of Murfreesboro is co-chair of Read To Succeed's One Book Committee and is author of the book blog Turn of the Page (michellepalmersbooks.blogspot.com)