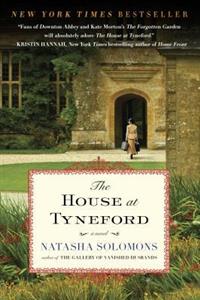 Review by Michelle Palmer
As Natasha Solomon's book The House at Tyneford begins, the year is 1938, and war is coming in Europe. At 19, Austrian Elise Landau has lived a privileged and pampered life. Elise's mother, Anna, is a world-renowned opera singer, and her father, Julian, a published author; older sister Margot is known as an accomplished violinist.
Parties, expensive jewelry and clothing, and entertaining are a way of life for the Landau family. But with war looming and Jews already being persecuted, Elise's parents begin to fear for their safety, and their first step is to get Elise out of the country. The very last thing Elise wants to do is leave her family and go to England to work as a maid. But Elise's family has several qualities that make them vulnerable during this troubled time: they are wealthy, they are artists and they are Jewish.
Elise places an advertisement as a maid, and shortly thereafter finds herself on a train destined for the rocky coast of England and her new life at Tyneford. From the moment Elise arrives, it is clear that she is very different from the other servants working at Tyneford. Whether it is her exotic looks and long dark hair or her previous life as a member of society in wealthy Austria, Elise does not fit in. "You are to be the end of us all," declares Wrexham, Tyneford's butler. The challenging situation is only made worse when Elise meets and eventually falls in love with the young master of the house, Kit Rivers.
While Elise struggles to adapt to her new world, as well as her feelings for Kit, the ever-present worry for her family grows with each passing week. The original plan—for Anna and Julian to secure visas and go to America—has encountered one roadblock after another, and eventually, as war breaks out, Elise loses all touch with her parents.
The House at Tyneford is a tale of loyalty, bravery and the tremendous cost of war, not just to people but to the very existence of the house at Tyneford and a way of life. Fans of the television series Downton Abbey will adore this novel, which clearly evokes the class division, formality and traditions of late 1930s England. Solomon's account of the war is fairly benign—the German soldier who crashes in the water off Tyneford suffers only a cut to his head, and Mr. Rivers' injuries from the war include exposure and a gash under his arm. Where Solomon excels is in the descriptions of Tyneford, from the height of its glory to its sad demise, and her writing is both lovely and evocative.
The House at Tyneford is a lush book that will take readers on a journey to a long-forgotten place and time. Despite Wrexham's prediction, in the end, it is not Elise who causes the downfall of Tyneford; it is the ravages of war and time itself that cause its demise.