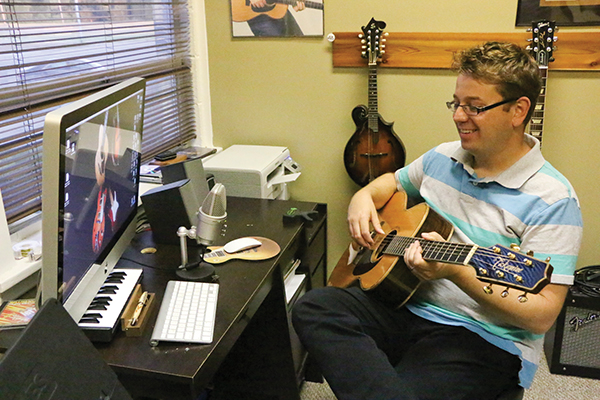 Lance Allen smiles as he listens to a student strumming a guitar. Not an uncommon scene in this part of the country, where guitar picking seems to be a regional pastime. What is uncommon is that Allen is based in Smyrna, but his students . . . well, they could be anywhere an Internet connection is available.
From the comfort of his desk chair, Allen utilizes the wide-reaching power of Skype to teach lessons on guitar, bass, mandolin and ukulele on a global scale. In one day he may share video time with students in different states, even different continents. That's in addition to students who sit across from him in his studio.
He can hardly believe the scope of his reach.
Raised in Kentucky, Allen, an award-winning guitarist who has been featured in musicianship magazines like Fingerstyle Guitar and Acoustic Guitar, was initially inspired by his musical father and by classic rock veterans such as Led Zeppelin, Nirvana and Metallica, just to name a few.
In time, Allen was drawn to the guitar style of Chet Atkins, particularly Atkins' ability to play two parts of a song simultaneously via fingerstyle playing, the technique of plucking strings directly with the fingertips or picks attached to fingers. Allen soon focused on mastering the style.
Not long after graduating Middle Tennessee State University with a degree in recording industry management, Allen took a full-time job at a local music store where he also took on a full schedule of students for one-on-one lessons.
During this era, the rise of YouTube provided an entirely new way to broadcast his teachings to a wider audience. Allen began uploading videos of himself playing, and his audience reached a couple hundred thousand views within a short period of time.

Fellow YouTubers soon inquired what types of guitar styles he could play. Those conversations led to the use of Skype, the video conferencing network.
"A friend from Malaysia, actually, was interested in Skyping to see if it would really work," he recalled.
Sure enough, the webcam lesson turned out to be a success and Allen's entrepreneurial spirit took hold, leading to the creation of a business where he could teach the intricacies of guitar-playing from the comfort of his studio.
"I built a website with keywords and things like that so that people could find me," he said. "I kept putting video lesson teasers on YouTube and I eventually started to get a schedule of people . . . now I've taught [someone] in every state in the United States, and roughly 30 or so countries at this point."
To date, his YouTube channel has nearly 3 million views and approximately 3,000 admiring subscribers.
Aside from posting highly successful song tutorials, Allen is also an original composer of instrumental music, which is available on iTunes and Pandora Internet Radio.
For Allen, the rewards of teaching in person, or on Skype, are equally gratifying. For example, he recalled a 10-year-old student who was strumming and singing along in a mere four lessons with Allen at his studio.
"She was really on fire," he said. "I'm just really impressed with her, you know. And that right there, to see someone become really into guitar, it really makes my day.
"You know, you fall in love with an instrument, and I've got all kinds of guitars in here that my students are welcome to play and put their hands on," he said from his studio. "When I was a kid, I wasn't allowed to play a Les Paul [electric guitar] in the music store, but I have one here that any of my students can play on."
In terms of original work, he claimed that his favorite song is one that he wrote for his wife. Called "Just Thoughts," the tune doesn't have lyrics, said Allen—but one has to remember that actual words are not always necessary to convey genuine emotion through music.
He began to pick a pleasant, uplifting melody with skillful, fingerstyle precision on each chord. As he played he reminisced writing the arrangement for his then-college sweetheart while still an MTSU student.
Allen is grateful for the opportunities that technology has given him to expand his local business worldwide, and to teach students from different cultures who all share a common love for learning and playing music.
"The only drawback is that a student and I can't jam together," he noted, because there's a slight time delay in the video. "But I imagine one day they'll have that figured out as well," he predicted.
When asked about advice for aspiring guitarists and songwriters, he shared the same wisdom he would give to any of his fellow students in the form of "three P's."
"Pursue; number two is to persist and then number three is having patience. If you can achieve all three P's . . . you can be moderately successful with any instrument."
It could also help to have a good Internet connection.
To book a music lesson, visit LanceAllenStudio.com.