Bear Creek Music Festival returns Nov. 13–17 in the heart of one of the most beautiful music venues in the country. Nestled amongst the Suwannee River in Northern Florida, the Spirit of Suwanee Music Park features an indoor stage and three outdoor stages, including its notorious amphitheater, cradled within towering pine and oak trees covered in Spanish moss and perfect for hammock life. Bear Creek showcases one of the most dynamic funk, electronic, rock and world music lineups with artists like Zach Deputy, The Main Squeeze, Umphrey's McGee, The Floozies, Lettuce, Dumpstaphunk, Earphunk, a Silent Disco and more with many of the acts playing multiple sets. This year the Mande Superjam debuts with an all-star ensemble of African and American musicians featuring Benyoro, Kreative Pandemonium, Toubab Krewe and special guests Balla Kouyate and Raja Kassis, with sounds of blues, jazz and Appalachian-type music stemming from the heart of West African tunes.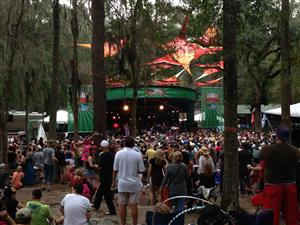 The Spirit of the Suwannee Music Park consists of more than 500 acres ideal for camping, hiking, canoeing, rental cabins, RV parking with full hookups, electric and water sites, shower and bath houses, the Arts and Crafts Village, a full-service restaurant, Country Store and more. The park also is home to the world's largest bat house, which was mind-blowing to witness, and a honey bee observation exhibit.
One of the emotions that stands out in my mind about Bear Creek is the originality and enthusiasm that goes into the themed costume nights. Everyone seems to possess more of an exuberance and affection for each other as you are bonded in your crazy, funky, free self. Friday's theme is "Warm & Fuzzy." Saturday is Superheroes, Cops 'n' Robbers, and Sunday is Purple Day, when, in honor of Rachel Morningstar Hoffman (a young woman murdered by drug dealers in 2008 after Florida police convinced her to act as an undercover informant), everyone is asked to wear purple.
Bear Creek not only offers music, visual and live art, but also encourages everyone to get involved emotionally, mentally and physically. One of the most touching and inspirational yoga classes I encountered happened to be at a music festival. There is something empowering, relaxing and invigorating about doing yoga outdoors, with talented, mindful instructors amongst the fields and forests. This year at Bear Creek, registered yoga teacher Kerrie Sandefur returns for Yoga in the Meadow on Saturday and Sunday mornings at 10 a.m., focusing on Ayurveda. This year Bear Creek's Yoga & Workshops Program offers more than 10 classes including Restorative Yoga, Yin Yoga to live Music, West African Drumming Workshop, Basics of Poi and more.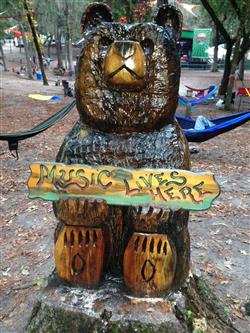 At Wakarusa, Summer Camp and Sonic Bloom this year, I was more than happy to be a part of the charity food drive. Why not bring a few cans that can make a huge difference in someone else's life? This year, Food Bank in Live Oak, Fla., Bear Creek and The Suwannee Music Foundation host their annual food drive supporting the Love Inc. Bring five or more cans or non-perishable food items in exchange for a commemorative 2014 festival poster. Zach Deputy Charity Disc Golf Tournament also invites everyone to participate in the 18-hole Magnolia Disc Golf Course Saturday at 10 a.m. for a $20 entry fee. This tournament supports The Spirit of the Suwannee Kids Music Camp.
My first year at Bear Creek last year gave me a peace of mind and left me constantly telling everyone how simply touching just being a part of the Spirit of Suwanee is. The calming lagoon in the midst of the campsites, magnificent tree-life, hand-constructed wooden structures around the campsites for hammocks, late-nights surprise sets and more make Bear Creek stand out in my mind as one I now insist on attending every year. Funk and electronic have grown to be among my favorite genres, and it is hard to find a festival that offers more concentrated funk, jazz, and varied types of world music than Bear Creek. Put everything together, and, after attending more than 15 music and arts festivals, Bear Creek is one of my favorite festivals of the year.
For more information, visit BearCreekMusicFestival.com, facebook.com/BearCreekFest or Twitter and Instagram @BearCreekFest.