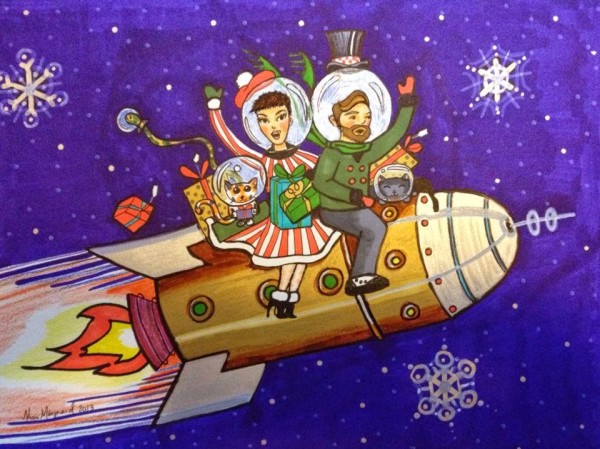 Travis and Alicia Maynard of Lime Tiger Emporium are no strangers to the pages of the Murfreesboro Pulse. They are staples in our local art community, providing us with all of the unique, artsy treasures their shop has to offer. Still, you may not be aware of just how much they have to offer in the area of Christmas gifts. If you have someone on your shopping list who enjoys dark and twisted oddities, Lime Tiger's inventory will give you a plethora of options, including commissioned artwork and custom gifts that could very well take care of everyone else on your list.
Some people may be afraid to ask for commission prices from artists because they are concerned it will be over their budget, but Lime Tiger's pricing will surprise you. Their everyday prices are already low, but if you have a specific budget, they will work with you.
"People can come in and say, 'I have this much money to spend and I want something like this,' and we will make something for you. It may not be as elaborate as a higher-priced item would be, but we'll work with your budget," Alicia Maynard explains.
Not only is it all extremely affordable, the Maynards work extremely fast and can get your custom work back to you quicker than you'd probably expect. "We can take custom orders possibly up to a week or two before Christmas, depending on how busy we are. You might come in one day and order something when we don't have a lot of other stuff going on, so we could have it finished within the week."
One of the great custom items available from Lime Tiger are Alicia's Christmas card illustrations. For around $50 you will get an 8×10 illustration of your family, which you can then have printed onto cards, shirts, or whatever else you desire, and still have your own copy to frame and keep. If you don't live in the area, the illustration can be mailed to you (provided you pay shipping costs). You can give Alicia an exact layout of what you want, or you can give her general ideas about what kinds of things your family is into and see what she comes up with! If you look at examples of these illustrations, you'll see that she has a talent for really bringing the personality of people out in fun and creative ways.
Another great gift option offered is Travis Maynard's custom dollhouses. These dollhouses can be constructed around whatever theme you can dream up, but a few examples of what he has done so far include Alice in Wonderland and a fairy dollhouse. Alicia explained that Travis would really like to do a play set for boys, so perhaps someone out there can place such an order soon. A smaller dollhouse could be as low as $80, the price increasing depending on materials and how elaborate you'd like the house to be. But once again, they will work with your budget. So don't hesitate to run an idea and a figure past them.
Other items available include custom-painted nesting dolls starting at $70–$100, and hand-painted stools, furniture, and keepsake boxes starting at $40–$50. Pretty much anything that can be painted on, Alicia will customize it for you. That includes shoes! Not to mention all of the other accessories she specializes in crafting: hair pins, fascinators, jewelry, etc. She is also a certified make-up artist and a talented stylist for those of you who may be interested in a new look for the holidays. They offer commissioned portraits with pricing depending on the size and number of people in the picture. You will also find a variety of finished paintings by Alicia, Travis, and other local artists scattered throughout their shop.
Stop in and discuss your Christmas shopping needs with them at Lime Tiger Emporium, 619 N. Maple St. Give them a call at (561) 685-3808 or find them on Facebook. They are just one of many options for shopping local and supporting Murfreesboro's flourishing community of artists this Christmas.