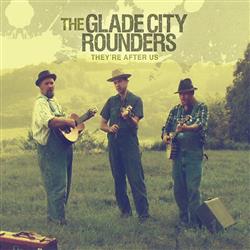 The Glade City Rounders' new album, They're After Us, will take you back in time with their old-time styles in string-band and jug-band blues music. The Middle Tennessee string band specializes in pre-war music that is reminiscent of Uncle Dave Macon, who happens to be a big influence on the band.
All three of the band members are known for their virtuosity on multiple instruments. William See sings and plays fiddle, kazoo and harmonica, Josh Smith sings and plays guitar and jug, and, lastly, Squirrel McLain sings and plays banjo and kazoo.
They're After Us displays the impressive musicianship of the band, most notable on the instrumental tracks "Darlin Honey," "Glade City Rag" and "Let's Hunt the Wild Horses." In these three songs, McLain's banjo holds down the beat while the other two work around him. "Darlin Honey" mostly gives See a chance to show off his fiddle skills, while "Glade City Rag" allows for See and Smith to take turns trading exciting solo after solo, and it even includes some human beatboxing.
The first track on the album, "Sourwood Mountain," is a short, fast-paced number that is a great starting point. It finds all three members singing the chorus in a grimy unison, talking about how there are too many pretty girls to count.
The title track of the album is another exciting piece of work. It features a deep, raspy, scratchy singing voice that adds an extra edge to the song. It doesn't provide any answers to who is after them, but it does specify that they are they objects of everyone's desire.
This is a well-rounded album by the highly-talented string band. Its sound is raw and natural, avoiding all the artificial sounds that are used on many contemporary albums. At the very least, the instrumentation will keep you entertained for hours, trying to figure out how The Glade City Rounders transition seamlessly from one instrument to the next.