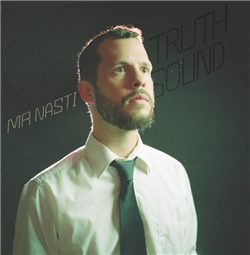 MR NASTI's second full-length album, Truth Sounds, features a blend of lo-fi shoegaze and synth-infused dance tracks, all layered with lyrics that raise thought-provoking questions regarding human existence and the choices we make.
Nicholas Naioti, the mastermind behind MR NASTI and once a Nashville-based musician, spent the past three years completing his sophomore album in Fairfield, Iowa, and continues to build upon themes of life and death captured on his self-titled 2012 release.
Lyrics like I made a choice to conquer hate with art ring out on the opening track, its spacey, rhythmic beats setting the tone for the majority of the album. The song, "Always Believe," is a psychedelic track that encourages the listener to live in the present and, as the title suggests, always believe in love.
In retrospect, songs like "Change It," featuring fellow Iowa artist Anna Gebhardt (Annalibera), and "Like a Wild Animal" lean toward the musician's singer/songwriter acoustic roots and offer the listener a more stripped-down production. Other guest musicians include Joel Gettys and Ryan Stier (The River Monks), Adrien Daller (Trouble Lights) and Nashville's own Spoken Nerd.
Clear standouts include "Stand Up Straight," a radio-friendly track featuring angelic vocals by Gebhardt and "Forge a Path," a song affirming Naioti's reoccurring mantra of living in the now.
On the closing song, "Mating Call," MR NASTI boldly captures the essence of the nine-track release in a single line with Are we really anything more than a series of experiences filtered through a formula designed in our childhood?
The album, well produced and genuine, weaves powerful messages into its catchy beats and riffs, something not easily accomplished in today's market.
For more on MR NASTI, visit mrnasti.com or find him on Bandcamp and Facebook.