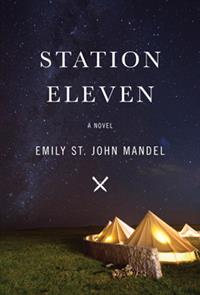 Arthur Leander is in trouble. The movie star is onstage performing Shakespeare in Toronto when he falls ill and collapses in the midst of delivering a line. Audience member Jeevan Chaudhary, former paparazzi-turned-EMT, comes to Arthur's aid while one of the children in the cast, Kirsten Raymonde, stands to the side, stunned and temporarily forgotten. Eventually Jeevan turns to comfort her. They don't yet know that soon there will be no comfort for anyone; that in a matter of mere days most life will come to a shocking end as a swift-moving flu wipes out not only the population of Toronto, but nearly all inhabitants of Earth.
In the post-apocalyptic world of Station Eleven: A Novel by Emily St. John Mandel, over ninety-nine percent of the population is gone. The few survivors root past skeletons to pilfer supplies, stay on constant alert to kill or be killed, and longingly remember a time when air conditioning came out of vents, when there were oranges to eat and when there were antibiotics to keep even minor injuries or illnesses from taking a fatal turn.
Fifteen years after the flu, Kirsten is a member of the Traveling Symphony, a troupe of actors and musicians who are constantly on the move, bringing Shakespeare and music to isolated settlements. A quote from Star Trek is emblazoned on their caravan and tattooed on Kirsten's arm: Because survival is insufficient. Through the everyday challenges of travel in this altered world, the troupe remains dedicated to keeping art alive, but its members' survival is threatened at an all-new level when they visit a small town that's been claimed by a prophet.
One mark of a good book is whether it entices me to explore subjects I initially find unappealing. By that measure and others, this 2014 National Book Award finalist is a haunting success. I don't particularly want to delve into a post-apocalyptic world and I'm not very interested in the lives of movie stars. Still, Mandel keeps me reading because of her characters' humanity, hopes and dreams: the humanity of carrying around an impractical but beautiful paperweight, the hopes that the offspring of survivors may never have to kill anyone, the dreams of once again seeing an airplane cross the sky. Mandel keeps me reading because "there is still such beauty" in the world, even this ruined world, which she chronicles with a poet's sensitivity.
From the point of view of multiple characters and moving back and forth in time, Station Eleven examines the endurance of celebrity versus art; the importance of remembering and being remembered; the necessity of starting over; embracing our stories, our day jobs, and our lives; the serendipity and chaos of fate; and the "human enterprise" of everything from graphic novels to technology. Under the spell of Mandel's deft wordsmithing, the reader will be, like one of the book's characters, glad to see "one world end and another begin" in this ultimately hopeful tale.