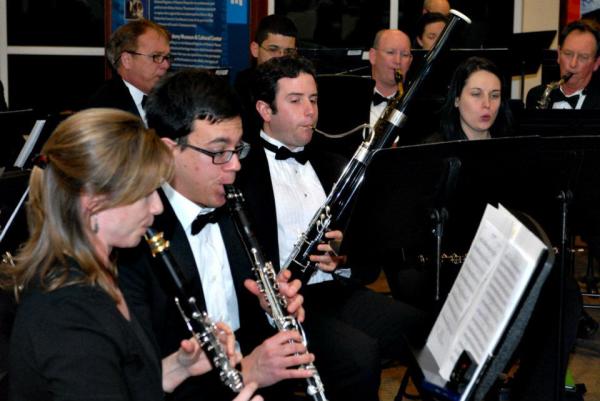 The Tennessee Valley Winds will perform a free concert under the direction of Richard Saucedo on Thursday, Feb. 5, at 8 p.m. This concert is presented as a part of the Wind Band Conference hosted by Middle Tennessee State University.
Saucedo is currently Director of Bands, Emeritus, after retiring from the William H. Duke Center for the Performing Arts at Carmel High School in Carmel, Ind. During his 31-year tenure, Carmel bands received numerous state and national honors in the areas of concert band, jazz band and marching band. Saucedo is a freelance arranger and composer, having released numerous marching band arrangements, concert band works and choral compositions. He is currently on the writing staff for the Hal Leonard Publishing Corporation. His concert band works have been performed all over the world by middle school and high school bands as well as by college and university groups. Saucedo's first orchestral piece, "Nocturne for Orchestra" was named most outstanding new original composition at the National Orchestra Cup Festival held at Lincoln Center in NY during April of 2009. His second orchestral work "Nibiru" was premiered in December of 2009 at the Midwest Band and Orchestra Convention.
Saucedo also served as the brass composer/arranger for the Cavaliers Drum and Bugle Corps in Rosemont, Ill., from 2000 through 2008. The Cavaliers won the DCI World Championship five times during his tenure.
The Tennessee Valley Winds is a nonprofit, all-volunteer, self-supporting community band that has been providing quality musical performances since 1984. The community band experience is unlike school or professional groups. Rarely do amateurs and professionals, young and old, get to work together. The opportunity to learn and grow is unique. The director is more of a guide than an authority figure, and does not assign parts or solos. It is expected that all will help each other by offering suggestions and sharing.
The TVW has been under the direction of Erich Zimmerman, the conductor for the Tennessee Valley Winds, in preparation for this concert. Zimmerman is currently in his 24th year as a music educator in Middle Tennessee, and is currently associate director at Blackman High school.
The Feb. 5 concert will be held in the MTSU Wright Music Building. For more information about the Tennessee Valley Winds Community Band, visit tnvalleywinds.org.