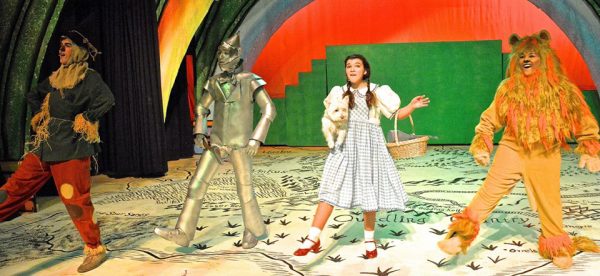 It's a well-known story: a little girl gets picked up by a cyclone and is transported from her dreary Kansas town into a Technicolor dreamscape, where she must battle an evil witch to return home. First penned by L. Frank Baum in 1900, The Wizard of Oz has since become, with the help of the 1939 movie of the same name, one of the most beloved children's stories of all time. Now it has come to the Murfreesboro Center of the Arts, where all those familiar characters come charmingly and enthusiastically to life.
The fictional world itself is impressively rendered as overly bright and garish, the way it's meant to be, and clever little tricks really bring the magic to the stage: a deafening roar as the twister pitches Dorothy's little house, a spray of bubbles as the (dubiously) Good Witch Glinda (Emily Oppmann) descends to make a horrid enemy for the confused child, the lifting and gliding of the balloon as Oz flies away—all little things, well done, that enhance the already abundant talent of the players and really sell their performances.
Dorothy, played sincerely and gravely by Sydney Callahan, moves through the bright and lurid Land of Oz, picking up her friends Scarecrow (Josh Miller), Tin Man (Eli Ragland) and Lion (Kate Hatch) while simultaneously skirting the machinations of The Wicked Witch of the West (Kait Kloss). All the old favorite songs are there and are all very well done. Callahan interprets Judy Garland's Over the Rainbow beautifully while Hatch delivers a cheeky rendition of If I Were King of the Forest that's practically set to an audience laugh track. A new addition—specifically for the Wicked Witch—is a jazzy little toe-tapping number that wins even if it doesn't quite fit.
While all of the kids are undoubtedly talented, a few stood out perceptibly and I would be remiss if I didn't mention them. Leah Pruter's Coroner of Munchkinland is so sharp and enthusiastic that she was a sheer joy to watch. Jessie Warrick, who plays both Uncle Henry and an Emerald City Guard, is a fantastic acrobat. The very last thing I expected to see was a set of crazy back handsprings, and without losing a beat, either. Any setbacks or mistakes were handled with more professional alacrity than I usually see in actors three times their ages, and, true enough, those were few and far between. Toto kept missing his mark, although everyone knows what divas terriers can be.
~~
The Wizard of Oz plays through Jan. 25 at The Center for the Arts. For tickets or more information, visit boroarts.org.